The latest round of updates to the EU Mobility Package have significant consequences for those vehicle logistics service providers based in eastern Europe, while others based further west are less affected.
The legislation initiatives aim to maintain standards supporting driver safety, fair competition and sustainable business practices, among other improvements, for the transport industry throughout the EU.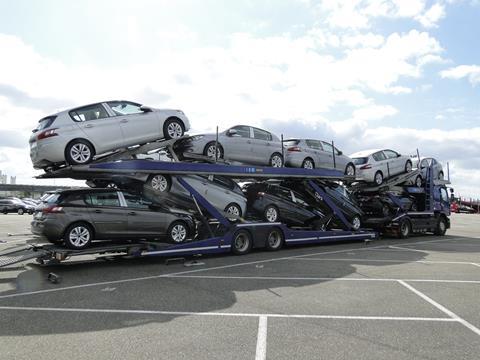 Despite the best intentions of its authors, however, overall the package has divided the industry and there are questions over whether the goals of the package are actually being met. More specifically, are wages being harmonised across Europe and are these new measures attracting new HGV drivers to the market?
Posted workers
The latest updates to the EU Mobility Package, effective since February 2, 2022, state that a driver must return to their 'home' member state within eight weeks of carrying out a delivery. For the duration of the period they are in a host state, they are considered 'posted workers' and entitled to the same working conditions as that host state offers its citizens.
Drivers must record their entry into any member state manually if their vehicle's digital tachograph does not record it automatically.
From February 21, the updated rules of cabotage are effective, whereby a haulier who has undertaken international cross-border transport within the last seven days can only perform three cabotage operations in the host state once all incoming international consignment is unloaded. These three cabotage operations then need to be followed by a four-day cooling off period.
While issues such as wage harmonisation mean that the huge discrepancy between the wage rates in eastern Europe compared with western Europe will officially be neutralised, in practice the fear is that it will force more localised deliveries and less international movement amongst hauliers.
"The FVL sector has become very dependent on trucks roaming in Europe and much of this demand has been met by carriers based in eastern Europe, who paid drivers additional allowances while working abroad," said Mike Sturgeon, executive director of the Association of European Vehicle Logistics (ECG).
As a result of the change in the law this year, those allowances have typically been incorporated into driver pay, to ensure that their salaries now exceed the minimum wage in other member states. This means they are now fully taxed on this money and also that they are no better off financially if they are roaming.
However, this has the effect that drivers no longer want to make these international trips when they can earn the same money working in their home market and potentially going home every night.
"The driver shortage is well documented but this new factor is now making the problem worse at exactly the time when demand is starting to grow again," said Sturgeon.
Driver costs
In conversation with hauliers based in countries such as Poland, which have a significantly lower hourly labour rate than in countries such as Germany, the consensus is that the new policies on cabotage and harmonisation of wages mean more local journeys, and for those involved in international deliveries a hike in wages.
Marcin Gabrowski, director of transport at Cat Mosolf Polksa (CMPL) said: "All our salaries are according to new rules, this raises costs about 7%."
He added that the subcontractor costs per driver have escalated significantly. "In the case of subcontractor costs per driver we have information about cost increases of between 20-30% per driver," Gabrowski said.
This is echoed by Frits Potze, managing director of the Netherlands at ColliCare, who said that while the new policies have not affected the salaries of his drivers, they have raised wages for subcontractors.
Cabotage, capacity and complexity
With regards to the new cabotage policies, Grabowski said that CMPL decided to reduce cabotage operations to a minimum. "We focus on transport from Poland to EU countries and back," he said. "This solved problems of driving time and rest. All drivers are now home every second week at the latest and they have regular breaks."
Luis Gomez, president of XPO Logistics, said the company had seen some related increase in business as more companies outsourced multinational transport needs to experienced third-party providers with local resources close to them, as is the case of XPO.
"The new rules have added complexity and reduced the capacity available in the market, making it more costly for shippers to manage transport on their own," he added.
Overall, the use of third-party providers, otherwise called subcontractors, has increased and this questions the aim of the policy. The new laws are needed to reduce the overall disparity across the EU member states, a vision that is well founded but, in reality, a difficult prospect.
Professor Dr Dirk Engelhardt, executive spokesperson for German road freight transport body, BGL, highlighted that the new policies have limited impact for German companies and drivers.
"It is true that drivers have to be paid according to minimum wage or tariff wages in place in the host member state when they do cabotage operations," he said. "For the moment, we have not a solid view on how that new rule affects the German hauliers. Given the relatively high wages in Germany, however, we do not expect German hauliers to be greatly affected by that measure," he explains.
Driver shortage
The haulage sector is also being badly affected by a shortage of drivers, and that is moreso when it comes to those delivering finished vehicles. It is a problem that has been exacerbated by the Covid pandemic. Older HGV drivers have left the profession and training new drivers stalled through the lockdowns in Europe. The end result today is that the vacant positions remain unfilled.
There are other disruptions to driver recruitment, not least the ongoing war in Ukraine. What this has done is further reduce the workforce of HGV drivers. Poland, for example, had over 30% of its drivers from outside the EU, of which 75% were from Ukraine. Now, with able men under 60 years old called to fight, many have returned to their homeland, while those in Ukraine are now not legally allowed to leave. So this has further reduced the number of drivers available.
Meanwhile, drivers from Belarus and Russia are no longer entitled to working visas in the EU. According to data from the International Road Transport Union (IRU), this means that over 166,000 heavy vehicle drivers from Ukraine, Belarus and Russia are now no longer available so far this year.
Pent-up demand
The driver shortage conflicts with a backlog in the delivery of goods by road stemming from the lockdowns over Covid and renewed demand. More transport is needed to meet that demand but without drivers capacity is limited. The overall demand for drivers has increased and that includes for finished vehicle deliveries.
In fact, the latest global light vehicle manufacturing forecast from GlobalData unit LMC Automotive shows growth in 2022, despite a worsening outlook for the global economy and the continuing adverse impacts of war in Ukraine. According to the analystk global market growth of 4.2% to 80.1m units is expected in 2022.
LMC analysts say that although there are negative factors at work and economic conditions are worsening in many markets, the supply constraints caused by the semiconductor shortage mean long waiting lists and still unsatisfied demand for finished vehicles. Indeed, they estimate that real demand in western Europe and North America is still far higher than the current level of vehicle sales, possibly by as much as 10-15%.