Foton is supplying more than 1,000 electric buses to the Chilean capital Santiago in a deal that puts the Chinese commercial vehicle maker at the top new energy vehicle market in the country.
It is the biggest order for Chinese-manufactured electric city buses from an overseas market and worth RMB 1.6 billion ($236m).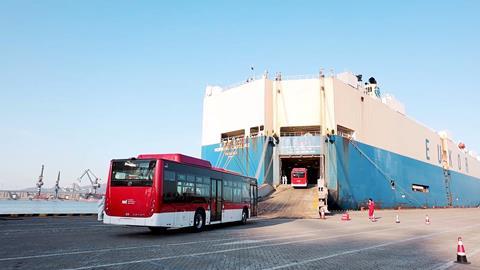 Foton will ship the buses from Tianjin port in China to San Antonio port in Chile.
In January last year, Foton joined the Zero Emission Bus Rapid Deployment Accelerator project (Zebra), launched by International Council on Clean Transport (ICCT) and C40 Cities Network. The $1 billion project aims to put over 3,000 electric city buses on the roads in Brazil, Chile, Mexico and Colombia. Chile aims to have its entire public transport system powered by electricity, including battery electric vehicles, before 2040.
Prior to this latest contract Foton has supplied Chile with 215 new energy buses and is now the leading brand in the country. The vehicle maker also exports buses to Australia, Egypt, India, Malta and New Zealand.
Foton said it had conducted comprehensive research on the Chilean market, including competing products and what were the main demands of the operators. Based on that the company said it could offer the best combination of technology, products, services and finance. The vehicle maker said it wanted to be the leader driver of green public transport in Latin America.
In the first quarter of this year Foton exported 439 automatic heavy-duty trucks to Colombia for applications across different industries including hazardous chemical and bulk cargo transport, as well as for vehicle leasin