The Finished Vehicle Logistics North America conference will be returning to California in November, bringing leading decision makers and experts from across the automotive outbound sector face-to-face with each other again for the first time since the Covid-19 pandemic.
Under the banner – Strengthening networks, energising partnerships – discussions at this year's event will focus on what needs to be done to mitigate supply chain disruption and ensure future success in outbound logistics.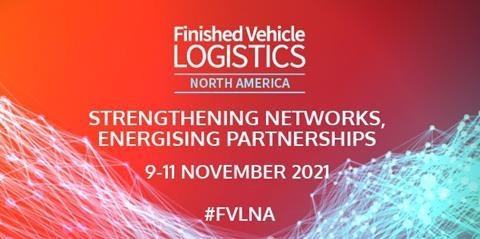 Getting vehicles to market as efficiently as possible across all the modes has never been more important. Carmakers and transport providers face ongoing challenges in securing capacity and managing a worsening shortage of truck drivers. This comes at a time when vehicle inventory in the US is at one of its lowest points in a decade. There continues to be strong demand in the wake of the Covid lockdown, with the seasonally adjusted annual rate of sales one of the highest rates over the last 20 years. Vehicles are being sold off the back of the transporters delivering them to the dealers but at the same time, production shutdowns continue as carmakers struggle to secure enough semiconductors for their increasingly sophisticated vehicles. The temporary shutdown of the Nissan plant in Smyrna is just the latest in a line of shutdowns at the major manufacturers.
However, the pandemic and its aftermath have also accelerated change, prompting automotive manufacturers to implement advanced logistics technology. Digital tools are transforming the outbound supply chain and improving communication with logistics partners to make the delivery of vehicle more efficient in the face of disruption.
The automotive outbound sector is embracing more web-based applications for its workflow organisation and centralising its data infrastructure in the cloud. Together, OEMs and their service providers are exploring data analytics, tracking technology and redesigning more sustainable supply chains. They are also improving communication – an essential factor in improving vehicle deliveries. The result is a reimagining of operations and a strengthening of networks to handle growing electric vehicle volumes and to meet stricter emission and sustainability targets.
Returning to its home in in California, Finished Vehicle Logistics North America will bring together vehicle logistics stakeholders from across OEMs, carriers, logistics service providers, technology and equipment specialists, for a programme full of expert panels, industry-leading data, OEM interviews, workshops and unrivalled opportunities for networking.
So, whether it is on the golf course or in an expert-led discussion group, at the cocktail reception or during a thought provoking panel discussion, Finished Vehicle Logistics North America is the perfect event to strengthen your network and energise your partnerships.
Learn more about the agenda for this year's conference and book your place here