Russia is considering a ban on the entry of European trucks from October 1 this year, according to the Russian state-owned news outlet Interfax. The Russian Transport Ministry will finalise a draft decree on the new sanctions by August 1.
In early June, the Russian Association of International Road Carriers (RAIRC) filed a petition to Russian president Vladimir Putin requesting the introduction of sanctions against European transport companies. That was in reponse to the ban put on Russian trucks from crossing the European border in April of 2022, following Russia's invasion of Ukraine. By the beginning of June Russian automotive carriers had lost 9 billion roubles ($150m) because of those sanctions.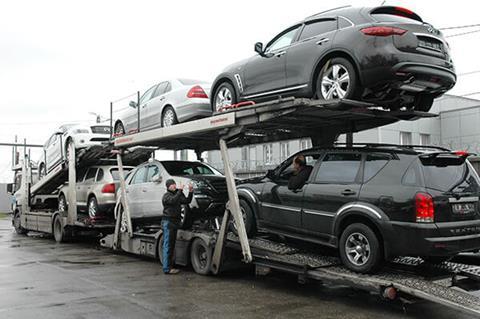 At the same time, the RAIRC estimated that European transport companies were "taking advantage of their monopoly position on the market", having raised their fees for delivering goods to and from Russia by a factor of four or five times, compared to levels before the ban.
By introducing its own sanctions on truck movements, Russia could force European carriers to resort to "a Belarussian scheme," which involves recoupling semi-trailers on the border or reloading cargo at border customs terminals. The Belarussian government banned European trucks from crossing its border on April 16 in response to a similar step taken by the EU.
However, the Russian newspaper Kommersant reported that the Belarussian scheme could hardly be called successful, as either recoupling of semi-trailers or reloading cargo takes a lot of time and effort. Kommersant said that multiple European carriers had switched from supplying cargoes to Russia through Belarus to making direct deliveries through the Russia-EU border in the Baltic region.
Vehicle sales halved
Russian finished vehicle imports from Europe have nearly ground to a halt because of the disruption. The Russian consultancy Avtostat estimates that Russia imported 8,271 vehicles last month, primarily from China and Japan. Chery accounted for 2,296 units, Geely for 1,390 and Hyundai for 1,159.
Avtostat estimates that for this year vehicle sales in Russia are likely to reach around 690,000 in an optimistic scenario but could be as low as 505,000. That compares to sales in 2021 of 1.54m units.
One Russian logistics company source told Automotive Logistics that car carriers began selling off their fleet assetss in May, when "everybody realised that the current standoff was not going to wind down soon". Introducing new restrictions on European truck companies to force them to cooperate with the Russia could help Russian businesses, but only once the parallel imports start working. Added to which, and there is no confidence that cargo flows in the automotive industry are going to be even close to those the industry saw before Russia invaded Ukraine on February 24.
The situation is also complicated for automotive parts imports. Several Russian businesses estimate the cost of delivering a container from Europe to Russia soared from €3,200 ($3,275) in early 2022 to €11,000 ($11,255) in May of 2022. Over the past several months, expensive and complicated logistics have hindered Russian containerised components imports.