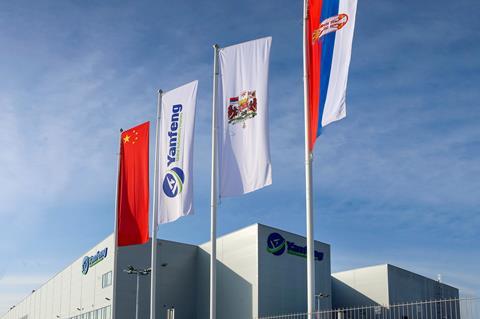 China's Yanfeng Automotive Interiors (YFAI) has officially opened a plant at Kragujevac, central Serbia. Logistics played a part in the choice of location.
The good infrastructure in place, with a university, motorway and other advantages, plus availability of skilled workers in and around the city were key to choosing Serbia for the new site, a company spokeswoman told Automotive Logistics.
"Kragujevac is a very good location for our growth as it has the qualified workforce that our company needs to deliver the highest quality to our customers, the premium European OEMs," she added.
"For our new state-of-the-art plant and the high-tech equipment, a highly qualified workforce is required and should continuously be trained," she said.
At this early stage the Kragujevac factory produces door panel components for YFAI's other plants in Hungary, the Czech Republic and Slovakia.
"Other customers will be added as we reach full capacity," she added. That is targeted to be 2023, when employment is planned to have risen to 800 from around 180 at present.
The new unit's production area is about 18,500 sq.m which allows for an increase in production to support the company's growth in the Central and Eastern Europe (CEE) region.
YFAI is a joint venture between Yanfeng, one of China's largest automotive suppliers, and Adient, a major global producer of automotive seating.
Based in Shanghai, the company has 110 manufacturing plants and technical centres in 20 countries. Its product portfolio includes instrument and door panels, floor and overhead consoles, cockpit systems and interior lighting.
For more information on the plant in Kragujevac, see:
https://www.automotivemanufacturingsolutions.com/interiors/yanfeng-automotive-interiors-kragujevac-serbia/39714.article