Austrian finished vehicle carrier, Lagermax, has deployed the first new Mercedes-Benz Actros truck for the transport of passenger cars. Transport equipment provider Kässbohrer supplied and fitted the vehicle-carrying trailer. It is the first instance of the new Actros being used as a finished vehicle carrier. The truck began production at the Mercedes-Benz Wörth plant in Germany in May last year.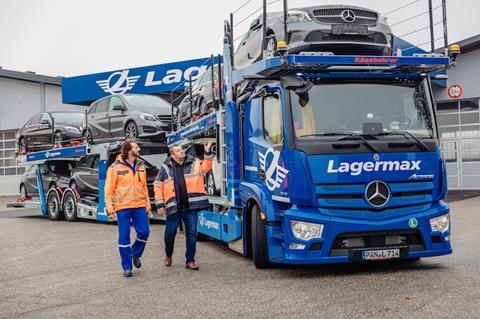 According to Lagermax's fleet manager, Franz Birgman, the the latest version of the Actros helps drivers in adopting a fuel-saving driving style on motorways and cross-country main roads.
"With an annual mileage of over 100,000 kilometres per truck, each percentage point we save counts towards our financial success," he said.
The car-transporting Actros is based on the 1843 LSnrA standard chassis and among the attractions for Lagermax drivers are the multimedia cockpit and MirrorCam – a small streamlined camera mounted on the roof frame that is now standard on Actros trucks, replacing the traditional mirror.
"With the new Actros in our fleet, we want to make a statement at a time when drivers are in short supply that we are an attractive employer which always has the safest, most comfortable and most modern vehicles in the fleet," added Birgman.
Lagermax, which is headquartered in Salzburg, owns more than 500 trucks, with access to others owned and driven by contractors.