The US arm of German logistics company Dachser has transported 138 tons of automotive manufacturing machinery from Jundiai, Brazil to Silao, Mexico for a tier one supplier.
In collaboration with its teams in Brazil and Mexico, Dachser USA moved a compressor machine, which weighed 125 tons and 14 pieces of accessory equipment. The heavy-lift cargo was moved via a multi-axle platform trailer through the streets of Brazil following pre-approved routes toward the port of Santos in Sao Paolo. Covid-19 restrictions meant there were no police escorts and the cargo could only move between 11pm and 6am. The 98-mile trip from Jundiai to the port took seven days.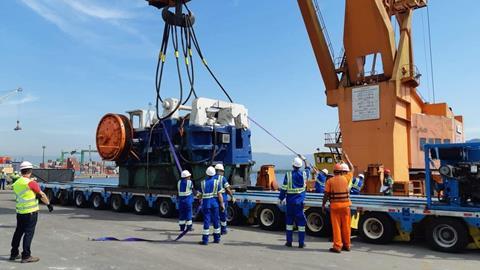 At the port, Dachser arranged for a floating mobile crane to load the cargo on to a CMA CGM containership, which then sailed to the port of Veracruz in Mexico, arriving on May 3. It was offloaded directly onto a modular truck and cleared by customs the following day. Dachser then transported the machinery 701.7 km (436 miles) to the customer's plant in Silao, where it was offloaded with three cranes.
"As an innovative logistics solutions provider, Dachser regularly guides our customers through complex logistics challenges, including those that require a collaboration with our global Dachser partners," said Guido Gries, managing director, Dachser Americas. "But there are certain projects, especially complicated heavy-lift projects, that present unique challenges, offering an opportunity to stretch our innovative thinking. I can confidently say that transporting this automotive manufacturing equipment was one of those opportunities."
Make or break
Both ro-ro and breakbulk services were considered for the project, but after weighing up cost, transit time and safety, Dachser opted for the breakbulk option meaning the cargo was loaded individually.
"There are a lot of factors to consider when planning the movement of this type of project cargo, but we knew from the onset that the most critical element to successful and on-time transport was communication. There were numerous parties involved in this project, from permit providers to brokers, to local authorities, as well as the ocean carrier and our road transport partners," said João Caldana, managing director of Dachser Brazil.
Edgardo Hamon, managing director, Dachser Mexico added: "Being able to successfully execute a project of this magnitude, especially in the midst of a global pandemic, is a great accomplishment and a testament to Dachser's commitment to meeting our customer's needs no matter how challenging."
Automotive manufacturing accounts for more than 3% of Mexico's gross domestic product (GDP) and more than 20% of its manufacturing GDP. According to the International Organisation of Motor Vehicle Manufacturers, the country is the world's seventh-largest automotive producer. Nearly 80% of Mexican-made vehicles are shipped to the US, including Ford and GM models. However, the North American nation has become one of the world's main coronavirus hotspots, with latest figures reported to be close to 480,000 cases and 52,000 deaths.