Norwegian shipping line UECC has expanded its sustainable fleet of pure car and truck carriers (PCTCs) with a second multi-fuel LNG battery hybrid newbuild.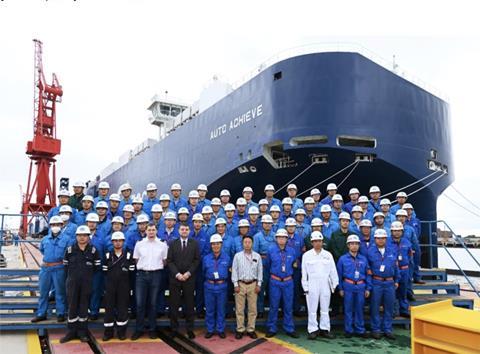 The latest PCTC, named Auto Achieve, delivered from China's Jiangnan Shipyard, will help lower emissions for the ro-ro carrier in the European shortsea trade where it will join sister vessel Auto Advance, which was delivered from the same Chinese site last year.
"UECC has taken a progressive approach to curb its environmental footprint with these newbuilds that are the first PCTCs to adopt this innovative technological solution, which is based on stringent design criteria for energy efficiency," says Glenn Edvardsen, CEO of UECC.
The new ship marks the fifth vessel in UECC's eco-friendly fleet. After the series's third and final new build is delivered later this year, it will amount to 50% of its owned fleet of nine PCTCs.
80% of the shipping line's total lifting capacity met or exceeded the International Maritime Organisation (IMO) target to cut carbon intensity by 40% within 2030.
Preparing for a decarbonised Europe
Continental authorities are not just looking to decarbonise the passenger vehicle sector but also supply chain networks through shipping emissions targets.
Hybrid technology can serve not only to improve sustainability by reducing emissions but also boosts operational efficiency. Using battery power also helps port calls as it reduces harmful emissions around coastal cities.
"The arrival of this second multi-fuel LNG Battery Hybrid vessel moves us another step further along the path to decarbonisation," said energy & sustainability manager Daniel Gent
"Our customers benefit from an immediate reduction in GHG intensity when transporting their cargo with UECC, whilst we also strengthen our sustainable offering as shipping moves into an era of ever-stricter emissions regulations."
UECC's drive to reduce vessel pollution comes just ahead of the EU's Emissions Trading System for shipping is set to be introduced in 2024.
"Our investment in these newbuilds was based on our ethical belief in the need for decarbonisation of shipping to make a difference for the environment, given the industry's high level of emissions relative to other sectors," Edvardsen says.
UECCs say their move towards decarbonisation is "vindicated" as increasing regulatory and market pressure for green operations have demonstrated how valuable future-oriented investments are.
The three new multi-fuel LNG battery hybrid vessels will reach the IMO Tier 3 NOx emissions limitations and operate in the Baltic Sea and the North Sea from the 2021 keel lays.
UECC's operations have been consistent with IMO targets for six years of using the dual-fuel LNG vessels Auto Eco and Auto Energy.
"UECC has been a first-mover for green operations in the car carrier segment and is now benefiting from this proactive strategy by realising significant fuel efficiency gains and emission reductions," Edvardsen says.
In-house development
The solution, using multi-fuel LNG engines for main propulsion and auxiliaries combined with battery hybrid capability, was developed by UECC, together with DNV and Jiangnan's in-house ship designer, Shanghai Merchant Ship Design & Research Institute.
Multi-fuel engines allow an emissions reduction of around 25%, SOx and particulate matter by 90% and NOx by 85% from the use of LNG. These are also adaptable for low-carbon fuels such as bio-LNG and synthetic fuels.