The North American automotive market has shown resilience in the face of the Covid-19 pandemic but its recovery and future success depend on high-performing logistics and supply chains to avoid further disruption and better serve customers.
That makes it more important than ever to gain valuable insight, connections and market data across inbound, production and outbound supply chains, while interacting with industry decision makers across the US, Mexico and Canada.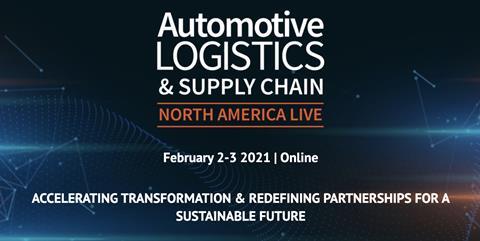 Automotive Logistics has created the perfect digital platform to do just that at Automotive Logistics and Supply Chain Live North America, which will be held February 2-3, 2021.
With so much uncertainty to manage, 2021 is set to be a critical year and one that will carry plenty of change and opportunity. Disruption in 2020 escalated the use of digital technology across the inbound, outbound and aftermarket sectors. That momentum will continue and comes at the same time the automotive industry is driving toward a more sustainable way of making and moving cleaner vehicles.
It also comes at a time when the North American region is settling into a new trade agreement – the USMCA – with impacts on logistics and material flow, sourcing strategies and customs procedures.
ALSC Live North America will feature debate and insight on the continued recovery in the North American automotive sector, with a dedicated supply chain focus on both Mexico and Canada.
Mexico's automotive supply chain must work together to remain competitive, reliable and resilient amidst a new era of industry transformation. Canada's production and logistics must also remain resilient to disruption, but may also offer both traditional and new players new opportunities for trade, electrification and digitalisation as the 'Silicon Valley of the North'.
Join the regions' automotive supply chain leaders and experts for the latest intelligence to shape your strategies for supply chains that are more resilient, robust, agile and more equipped to maintain the recovery, and accelerate transformation.