The London Electric Vehicle Company (LEVC) has opened a parts distribution centre in Eisenach, Germany as part of a new five-year deal with TVS Supply Chain Solutions (SCS) to operate a parts distribution network in Europe.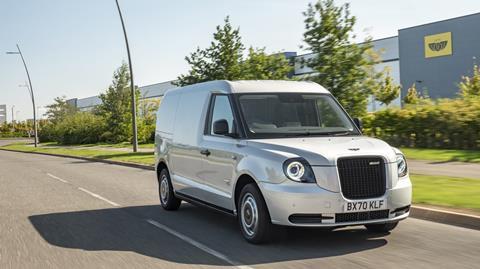 TVS SCS is the sole distributor of LEVC's aftermarket spare parts for the older diesel taxi, new TX hybrid taxi and the new VN5 van derivative, to a global network of dealers.
"We are growing our dealer network across all of Europe and this new deal with TVS SCS will play a key role in facilitating this rapid expansion," said Joerg Hofmann, CEO of LEVC. "The new facility in Eisenach will ensure short parts delivery lead times of 24 hours underlining LEVC's focus to achieve first class service for our distribution partners and customers across Europe."
Formerly the London Taxi Company, LEVC has been expanding its European reach since Chinese carmaker Geely took over in 2014 and is now making the VN5 electric delivery van at its facility in Coventry, UK, alongside its taxis. It intends to be supplying 21 markets in Europe by the end of this year. The Eisenach PDC will support 14 dealers. It is the second warehouse location after LEVC's existing distribution point in the UK.
Geely has invested £500m ($604m) in LEVC since the buyout, including £300m in its facility in Coventry, which has capacity for annual production of 20,000 vehicles and from where it has been developing its first electric van, the VN5.
According to the company, its distribution network is supported by an online parts portal that makes it straightforward for LEVC dealers to source and order specific items for the TX electric taxi and VN5.
"LEVC's new Forward Stocking Location (FSL) is a warehouse site in Eisenach, Germany, strategically situated to keep order lead times short," said the company in a statement. "The range of parts stocked includes anything from consumable items such as filters, to medium-sized items including glass, to larger components."
At the end of last year LEVC signed a deal with logistics provider Gefco in the UK for finished vehicle delivery services.