British carmaker Lotus has seen its largest global sales growth in a decade despite the disruption affecting the automotive industry globally.
Sales were up 24% in 2021 compared to 2020, seeing a total of 1,710 units sold worldwide and a performance improvement in all major markets.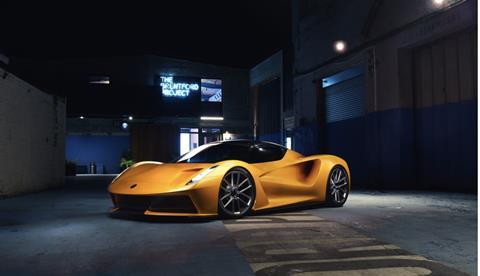 "In difficult circumstances our retailers have delivered what was asked of them and more," said Lotus managing director, Matt Windle. "It's testament to their hard work, and that of our manufacturing, marketing, sales and distribution teams around the world. A huge thank you to everyone involved – what a way to move into the era of Emira."
Sales in the UK increased by 29% last year, with Belgium as the top European performer at 37% growth. Retailers saw a 111% year-on-year increase in sales In the North American market, the OEMs best number in ten years.
As for the Asia-Pacific region, Lotus sales in Japan had the best year since 2015, Australia since 2018 and Hong Kong since 2014. Furthermore, despite Lotus cars only being available since 2016 in Qatar, the peninsula had its best year ever.
The Norfolk-based OEM also sold new cars in Bahrain, Thailand and New Zealand, which had not been the case for seven years.
Lotus has now ended production of the Elise, Exige and Evora models.
The Elise model was most successful seller, with customers eager to purchase the outgoing high-spec Sport 240 Final Edition and the Cup 250 Final Edition models.
Lotus's new models, the Emira and limited edition Evija sportscars, and the forthcoming company's first SUV, known currently as the Type 132, which will be unveiled this spring, will be available over the next three years.
Global journey
This comes as the company plans to expand into a globally recognised sportscar maker as part of its Vision80 business transformation strategy to 2028. The Emira and Evija have been central to this project.
The Emira among the last of the petrol-powered internal combustion engine models Lotus will make as it looks towards an electric future. The Lotus Evija is a 2,000 hp all-electric hypercar.
The new Geely plant in Wuhan, China, will build Lotus' premium lifestyle models: an E-segment SUV codenamed Type 132, followed in 2023 by an E-segment four-door coupe, codenamed Type 133, and in 2025 by Type 134, a new D-segment SUV.
Lotus' new models will spearhead its drive for global prominence. The OEM is developing various production locations worldwide, with production of vehicles set to begin this year at the new Wuhan location.
Production in Wuhan accompanies its new sportscar manufacturing and performance facilities at the carmaker's flagship plant in the Hethel, UK.
The past year has seen the company restructure its facilities to improve efficiency, with specific areas consolidating their roles in the overall logistics network. Lotus Cars involvement in the Chinese-owned Geely Group supports investment in updating existing facilities and constructing new locations.
Operations in China are being run from there while the company's UK activity has seen investment in manufacturing and logistics robotics and new IT systems.
Read more about developments at Lotus in our interview with Michael Dickinson, executive director of supply