Stellantis is in negotiations to be a stakeholder in French hydrogen fuel cell company Symbio. Symbio was originally set up in 2019 as a joint venture between tyre producer Michelin and automotive parts supplier Faurecia, with a joint investment of €140m. The move means Stellantis will become the third major investor in the project though a figure has not been disclosed.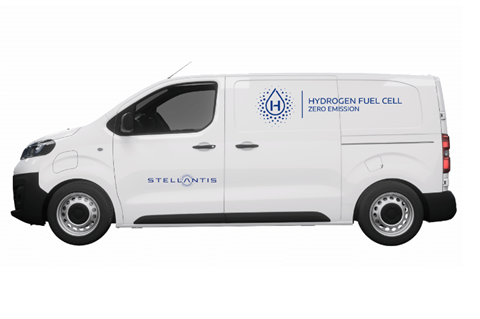 "Symbio's technical roadmap perfectly matches with Stellantis' hydrogen roll-out plans in Europe and in the US," said Stellantis CEO Carlos Tavares. "This move will foster the speed of development to bring low emission products to our customers, beyond traditional electric vehicles. We're grateful to the teams at Faurecia, Michelin and Symbio for their commitment to innovation, excellence and collaboration, as we all work to achieve decarbonised mobility."
In October 2022 Symbio announced an investment of €1 billion into a project called Hymotive, which is intended to accelerate its production of fuel-cell stack systems at a gigafactory in Saint-Fons, France. Production at the factory is intended to start in the latter half of 2023, with the announcement specific to supporting Stellantis in its fuel cell projects. With a projected ambition to produce 50,000 fuel cell systems in its initial years, long-term plans are for the Saint-Fons factory to supply Stellantis 10,000 of those systems a year, in an agreement made prior to this investment announcement.
By 2028 the Saint-Fons factory is intended to ramp production to 100,000 fuel cell stack systems per year, creating 1,000 jobs in the region.
"By the intention of acquiring a stake in Symbio, Stellantis confirms the robustness of Michelin and Faurecia's approach to creating a global leader in zero-emission mobility. The new setup will accelerate and globalise Symbio's growth to the benefit of its customers," declared Patrick Koller, CEO of Faurecia.
Florent Menegaux, CEO of Michelin, said: "Michelin is convinced that hydrogen fuel cell technology will make an effective contribution to decarbonising mobility and even beyond. This is what led Michelin to pioneer in this technology for more than 20 years. The arrival of Stellantis in Symbio's capital would reinforce this conviction and would catalyze the tremendous industrial momentum we have built with Faurecia."
In 2021 Stellantis partnered with the Suez group, to provide Citroën ë-Jumpy hydrogen fuel cell vans to the Suez group's Carcassonne plant. The partnership with Symbio will mean the supply of hydrogen vans on a wider scale.