Adampol's intermodal terminal in Małaszewicze, Poland is crucial for container transport between China and Europe. Territorial development director Dariusz Stypułkowski explains how the transport and logistics firm's new Baltic and Euro China trains are ready to offer clients a short cut

When cargo trains from China began arriving at the Polish border town of Małaszewicze almost a decade ago, they were something of a revelation, being able to ship cars to Europe in as little as two weeks. But now, after continued Chinese infrastructure investment as part of the Belt and Road Initiative (BRI), rail connections between Asia and Europe are known to be faster and often cheaper than sea transport, with the quickest trains from China arriving in as little as eight days.
However, the recent increase in the number of trains, fuelled by Beijing's plans to grow trade along its 'New Silk Road', is leading to overcrowded terminals in Germany, meaning that companies are looking for a shortcut to reduce unnecessary mileage.
"The transit time from Xi'an [Shaanxi, China] to Małaszewicze is just eight to ten days. It is three to four days shorter compared to ports and terminals in Germany or Benelux," says Stypułkowski. "The reason is not poor capacity at the transshipment point. The current infrastructure is not able to manage the increasing quantity of trains every day. If there is a small delay and the train misses its dedicated window, it has to wait between one and three days for a new slot."
As a result, Adampol is offering potential customers a geographical shortcut.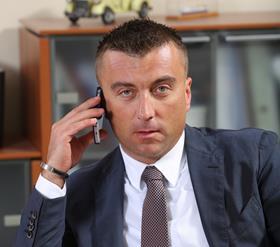 According to Adampol, its logistics centre is a unique terminal in Małaszewicze, thanks to its automotive connection, container terminals and spacious warehousing area. Besides the core business of the terminal – automotive logistics – the terminal can be used as a distribution and consolidation centre for containers and general cargo transport.
The company's fleet of trucks guarantees high efficiency in just-in-time deliveries. Additionally, long-term warehousing and customs services can also be provided.
Using full truck loads and full container loads, the company delivers cars and parts to Europe, including just-in-time delivery, from the point of loading to the point of unloading. It provides warehousing as well as import and export customs services.
Baltic Train Service
A new service, the Baltic Train, will offer a railway connection for the transport of containers between Małaszewicze and the ports of Gdańsk and Gdynia.
The capacity of a single train is 82 TEU (twenty-foot equivalent unit) and the transit time for a one-way journey is only one day. The service is available in both directions for shipper-owned containers and carrier-owned containers. Adampol is the only operator and administrator for the route, which, once launched at the beginning of October, will offer one connection per week increasing up to five trains per week in both directions.
"Gdańsk and Gdynia Ports are beating their records year by year in handled containers and short-sea connections are expanding quickly," explains Stypułkowski.
"Our quick, one-day shuttle from Adampol's terminal to the Gdańsk and Gdynia ports means we have dedicated wagons going in regular roundtrips. Now we can reach important sea ports in Northern Europe in just two to five days with direct sailings."
"The transit time from Xi'an [Shaanxi, China] to Małaszewicze is just eight to ten days. It is three to four days shorter compared to ports and terminals in Germany or Benelux" - Dariusz Stypułkowski, Adampol
The train serves customers in the Baltic States, Scandinavia and the UK, offering not just container yard solutions, but also a full door-to-door service for one fixed price.
Well connected
"We have very good contact with short-sea carriers and ferry operators, therefore along with rail transport we are able to offer sea freight to the best port for the container's final destination," says Stypułkowski. "We are able to move a container from the Tricity [Gdańsk, Gdynia and Sopot] to most ports in the Baltic Sea and North Sea in two to five days depending on overlaps with the ship's cut-off."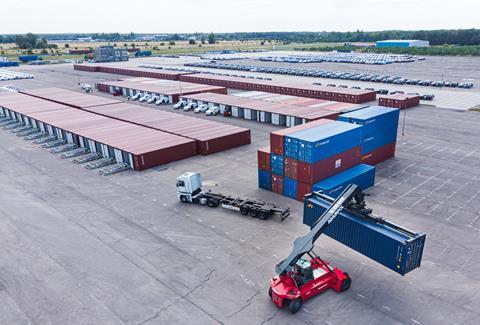 "We are already inviting producers and forwarding companies to cooperate with us and book the first spots on the train," says Stypułkowski.
The train is also available for customers from Belarus, Ukraine and Poland. "The goods don't have to be from China," adds Stypułkowski. "For example, the transport of goods from Kiev to a customer's warehouse in Gdynia in Poland is not a problem."
East meets West with Euro China Train
Adampol's second key offering is the Euro China Train (ECT), which provides a regular intermodal rail connection between the
company's dry port in Małaszewicze and the main Chinese ports. The average transit time is just 12 days.
"The Adampol terminal in Małaszewicze is on the border with Belarus and is the main point where trains can continue their route to other European countries. This is why we decided to build automotive and container terminals in the Duty Free Zone in Małaszewicze and to open the ECT," explains Stypułkowski.
Next year, the company plans to be making shipments, via its compound in Małaszewicze of more than 100,000 vehicles across different brands, to and from China.
"Our partners are the largest rail terminals in China and the biggest logistics companies in given regions. This is why there is no place in China to which we cannot deliver to or pick up our clients' goods from," says Stypułkowski.
Thanks to its relationships with sea carriers, Adampol says it can also offer combined transport from South Korea, Japan and Taiwan to Małaszewicze through China.
"Having our own rail terminal in Małaszewicze allows us to consolidate and secure loads in such a way that parts arrive perfectly intact in China. In terms of loads imported from China, we give our clients
the possibility to deconsolidate the load, through which they can plan the quickest and cheapest delivery to their chosen locations," says Stypułkowski.
He argues that rail transport has a significant advantage over sea transport in that it is largely immune to weather conditions, unlike ships that can be halted or damaged by storms. It is also much more cost-effective than air freight. "The ECT is a healthy alternative to slow sea transport and costly air freight. It facilitates much faster and cheaper imports and exports than ever before.
"And, when in our world time is equal to money, this has become a very important advantage," Stypułkowski concludes.
For more info: ect@adampolsa.com.pl