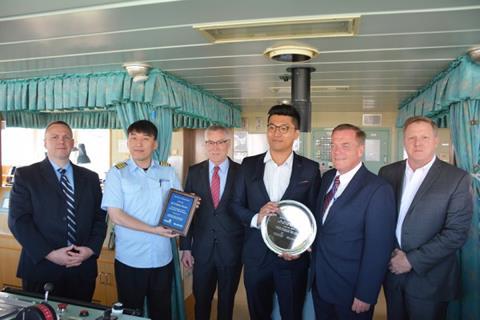 Left to right: Greg Iannarelli, PhilaPort; Captain M/V Glovis Comet; Jeff Theobald, PhilaPort; Kane Han, Hyundai Glovis; Pat Foran, Glovis America; and Scott Cornell, Hyundai Glovis
A Hyundai Glovis vessel carrying 2,176 Hyundai and Kia cars became the first ship to berth at the Port of Philadelphia's (PhilaPort's) Pier 122 in two decades.
Glenn Clift, president and CEO of Hyundai Glovis in the United States, said the extra pier would allow for two of the company's vessels to call at the port at the same time.
"More importantly, it allows for us to attract US export auto business and other third party businesses like machinery and farm equipment," he added.
In November last year, Governor Tom Wolf announced that Pennsylvania would invest $300m into port infrastructure.
As part of that investment, $93m was earmarked for the port of Philadelphia's finished vehicle terminal to more than double annual import capacity there to 350,000 vehicles.
Development of a vessel berth directly adjacent to the vehicle processing centre was a high priority.
Philaport had purchased the near 80 year-old Pier 122 from Conrail in 2007 and then leased it to an agriculture and fertiliser company, Growmark. Northeast Energy Terminal, a subsidiary of USD Group, then acquired the assets from Growmark in 2015 and later invested in improving Pier 122 to provide a safe berth for PCTC (pure car and truck carrier) vessels.
Philaport was not known to handle finished vehicles until 2010 when Hyundai Glovis began discharging vehicles there, having previously discharged in Baltimore and the port of New York and New Jersey.
In 2017, it is expected to handle over 200,000 cars. Hyundai Glovis happens to be receiving its one-millionth vehicle there next month.
Jeff Theobald, CEO of PhilaPort, said: "This is a true transformation story. In conjunction with our customer, Hyundai Glovis (Hyundai, Kia), tenant USD Group (Northeast Energy Terminal), the Teamsters and the ILA, we were able to retool the pier and put it back to work."
Read more about developments at North America's vehicle handling ports in our North American ports survey in the July-September edition of Finished Vehicle Logistics magazine