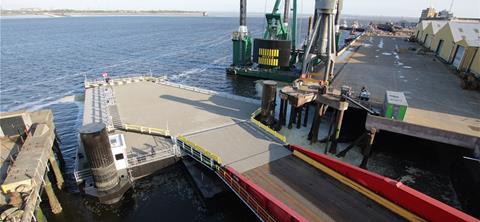 Peel Ports has spent £5.5m ($7m) replacing the Royal Bridge Pontoon to increase overall throughput capacity at Sheerness, part of the London Medway cluster of ports.
The work includes a new 12 metre wide, 45 metre across ramp, which will allow larger stern ro-ro vessels to berth at the port.
"It comes as new opportunities in the unaccompanied freight and automotive sectors brings new customers to the port, with the facilities able to support a higher volume of larger vessels," the British port operator said.
Riccardo Tonelli, port director ro-ro, added: "The new ramp facility at the Royal Bridge Pontoon will allow us to provide a better service to existing customers, increase volumes and gain new opportunities in unaccompanied freight.
"Forward-thinking solutions which improve efficiencies and add value to our customers' supply chains will in turn benefit their businesses and allow us to continue to expand our services to meet their needs."
The ramp, which has a lifespan of 25 years, was assembled and installed by Ravestein, which has worked with Peel Ports on similar projects at Liverpool and Heyshamin northern England.
London Medway, headed by Sheerness and Chatham, is a group of ports on the Thames Estuary in southern England.
Earlier this year Peel created 9.3 hectares of additional space for vehicle storage on the former Thamesteel site at Sheerness. The port's automotive customers are the VW Group, Jaguar Land Rover (JLR) and Ford, as well as logistics providers Gefco and the IM Group.