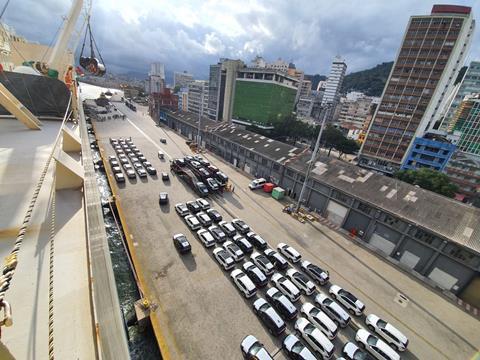 The port of Campana's Tajiber terminal, in the province of Buenos Aires, Argentina, has begun a regular ro-ro service for vehicle import and export volumes.
The terminal confirmed that its first consignment, which arrived on board the General San Martín at the end of last year, comprised of nearly 950 vehicles imported from Brazil. The terminal, which belongs to the Euroamérica Port Complex, then loaded 980 units for export back to Brazil.
The port complex had handled sporadic consignments in the past but has since been specifically adapted with finished vehicle volumes in mind. Operations manager, Juan José Quistre, said the terminal is now targeting regular import and export flows. The dedicated nature of the terminal, which covers an area of 240 hectares, allows vehicle transporters to gain direct access to the RN9 and RP6 main roads.
Euroamérica Port Complex has two other terminals on the Paraná de Las Palmas river, one multipurpose in nature, the other dedicated to bulk operations.