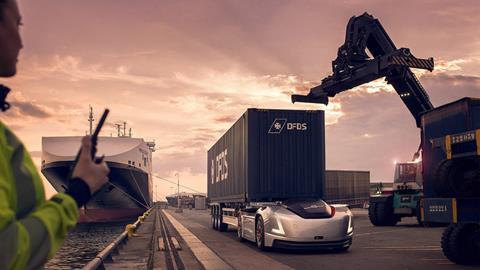 Vera, an electric, connected and autonomous vehicle (AV) developed by Volvo Trucks, has begun transporting containers between a DFDS logistics centre in Gothenburg to the APM port terminal in the Swedish city.
Several Vera vehicles will form part of a connected system and will be monitored from a control tower, according to Volvo.
Vera is suitable for short distances, transporting large volumes of goods with high precision and at a maximum speed of 40kph. The AV will operate on pre-defined public roads in an industrial area, the Swedish company added.
"We want to be at the forefront of connected, autonomous transportation," said Torben Carlsen, CEO of Danish shipping line DFDS. "This collaboration [with Volvo] will help us develop an efficient, flexible and sustainable long-term solution for receiving autonomous vehicles arriving at our gates, benefitting our customers, the environment and our business."
Further technological, operational management and infrastructure adaptations will be required before the system can become fully operational, says Volvo, adding necessary safety precautions will have to be taken to meet social requirements for a safe path towards autonomous transportation
That form of transport with low noise levels and zero exhaust emissions has an important role to play in the future of logistics to the benefit business and society, said Mikael Karlsson, vice-president Autonomous Solutions at Volvo Trucks.
"Vera may have a speed limit, but we don't. Testing has already started and we intend to implement the solution within the coming years," he added.