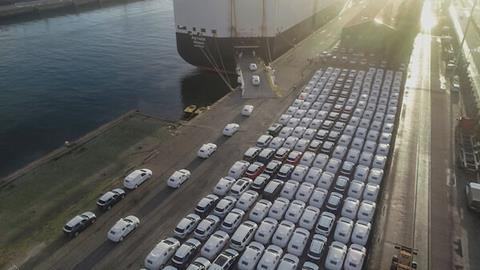 Volkswagen Autoeuropa has reintroduced a rail connection to the port of Setúbal.
The daily service will transport 250 finished vehicles, resulting in a decrease in carbon emissions of 400 tonnes annually, according to a company statement.
The company claims that by using rail, carbon emissions will fall by 80% overall when compared to a parallel road service, while also cutting 32 HGV loads per day between the Palmela production plant and the port of Setúbal.
Rui Baptista, Volkswagen Autoeuropa's Logistics Director, notes that rail transport is not only better for the environment but will be "more financially competitive" in the medium term.
According to Autoeuropa, 250 cars are expected to be transported daily until December this year. The company then plans to use two daily trains, increasing the figure to 500 vehicles, starting in 2020.
Once this figure is reached, 68% of Palmela's output will be moved from the plant by rail, leaving road haulage to account for just 32%.
In 2018, the Palmela plant built 223,200 units, consisting of T-Roc, Sharan and SEAT Alhambra models, the vast majority of which were dispatched from the port of Setúbal.