Russia's Industry and Trade Ministry has come up with a bailout package for the Russian automotive components industry worth Rub194 billion ($3 billion). The package is aimed at helping Russian carmakers, including Gaz, Kamaz, Sollers and Avtovaz, to increase the share of components they source on the domestic market by boosting output, thereby avoiding the risk of supply shortages brought about by US sanctions.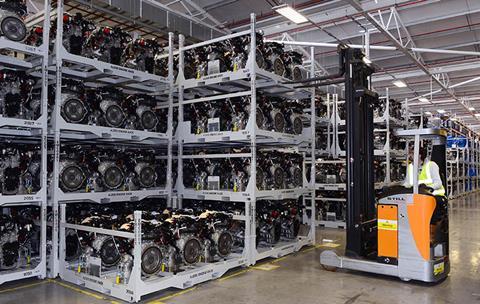 The threat of US sanctions against companies owned by Oleg Deripaska, particularly Gaz, and the threat of action against those companies doing business with the vehicle maker, has been hanging over the automotive sector in Russia for move than a year. The bailout programme is reported to be based on an appeal submitted by Gaz to the federal government earlier this year, when the carmaker warned that the US sanctions could bring a heavy impact on its business.
Gaz has been importing a broad range of automotive components, and all non-Russian suppliers are likely to cut their ties with the carmaker under a threat of secondary sanctions. Gaz has around 600 non-Russian components suppliers, including some US-based companies, and all of them would be forced to cease trading with the company if the sanctions are brought in this November. The Russian parts sector is currently unable to make up the shortfall.
Deripaska said earlier this year that some automotive components suppliers have already torn up their contracts with the carmaker even though the sanctions are yet to come into force. The US Treasury extended the deadline for companies to complete transactions with Gaz until November 8, 2019.
The Industry and Trade Ministry said that it had identified specific parts of the Russian parts sector where support was particularly required. In particular, it wants to localise in Russia the production of 3-litre engines, transmissions, powertrains and a number of other components. All in all, the ministry intends to allocate state aid for between 50 and 70 different projects up to 2025.
It also said it was necessary to establish a new state-owned company to run the project. That company would choose specific projects eligible for state aid, distribute state funds and supervise the progress of import-replacement on the domestic market.
However, the new funding programme is yet to be approved by the Russian Finance Ministry and the Economic Development Ministry. Citing sources in the Federal Government, Russian newspaper Kommersant reported there was a slim chance that the Industry and Trade Ministry would get a green light for the project, with one source stating that the "times when the Russian automotive industry was the subject of multi-billion state aid are gone". Other sources warned that there were no guarantees the proposed funding would be enough to support import-replacement, and moreover, that the current production capacities at the Russian carmakers would justify it given the low production volumes at the moment.