Industrial press maker, Schuler, has opened a service parts centre in its home town of Göppingen in Germany. The centre is comprised of both a warehouse that stores spare parts and manufacturing facilities so that anything not already on-site can be manufactured to demand.
Schuler previously centralised its spare parts operations to Göppingen, in 2020 to bring greater efficiency to spare parts deliveries and minimise customer downtime, for press maintenance. This expansion of that operation into the full-scale service centre means that customers can now receive round-the-clock support for their presses. The centre will stock 10,000 parts.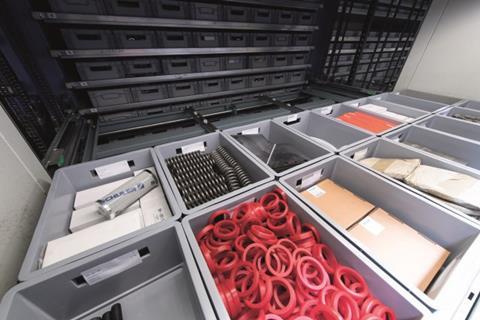 Schuler's aim is to provide customers with those parts within 24 hours of an order being placed. For those parts not in stock, the manufacturing facility provides a full range of milling and machining to make and repair parts, and carry out quality testing.
"The employees of our service centre have many years of experience and the highest level of technical know-how in the manufacture and repair of new and spare parts," said Schuler's service managing director, Torsten Petrick. "This enables us to react quickly to the needs of our customers and ensure maximum availability of their systems."
Although Schuler is the world's largest supplier of industrial presses, the service centre can also supply parts for other manufacturers' presses. Parts including pressure points, transfers, drivetrains, eccentric wheels, rams, die cushions, hydraulic cylinders and control blocks can be sent from the centre to service any maker's presses.
As well as the spare parts and manufacturing capabilties on-site in Göppingen, there is also quality assurance, internal assembly and support staff to assist customers with any issue involving presses.