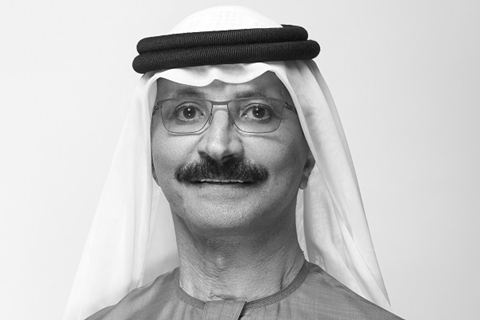 Sultan Ahmed Bin Sulayem was appointed Group Chairman and Chief Executive Officer of DP World with effect from 30 May 2007. He is also Chairman of the Ports, Customs & Free Zone Corporation (PCFC).
Mr Bin Sulayem has been one of Dubai's leading businessmen for more than three decades, having started his career in the customs office at Jebel Ali Port after receiving a B.S. degree in economics from Temple University in Philadelphia.
Mr Bin Sulayem's career spans a wide range of leadership roles in business and government.
Mr Bin Sulayem served as the first chairman of the Jebel Ali Free Zone (Jafza) when it was founded in 1985 and oversaw its development into the region's leading hub for logistics, hosting more than 7,500 enterprises including nearly one-hundred Fortune 500 companies. Mr Bin Sulayem also founded and led Nakheel, a leading real estate and tourism property development firm behind many of the most iconic projects in Dubai including Palm Jumeirah, the world's largest human-made islands.
In 2002, Mr Bin Sulayem pioneered the development of the Dubai Multi Commodities Centre (DMCC), a leading trading centre for international commodities across a range of goods from gold, diamonds and precious metals to tea, food and industrial materials. In 2003, Mr Bin Sulayem established and led Istithmar World, a premier global investment company with a portfolio of investments in private and public equity, real estate and alternative asset classes across North America, Europe, Asia and the Middle East.
During his tenure at the helm of DP World, Mr Bin Sulayem has successfully led its international expansion, including the acquisition of the P&O group for US$6.8 billion in March 2006, propelling the company to a leadership position as one of the world's largest port operators and trade enablers. Today, DP World operates 78 marine and inland terminals on six continents and employs more than 45,000 employees in 42 countries.
Mr Bin Sulayem has been appointed to the boards of a number of leading industry associations and governing bodies, including the Dubai Executive Council, the UAE Federal Tax Authority and Virgin Hyperloop One.