German federal funding and cooperation between six partners will spend four years developing heavy haulage combustion engines powered by hydrogen, as well as installing two truck-suitable hydrogen fuelling stations in Leipzig and Nuremberg.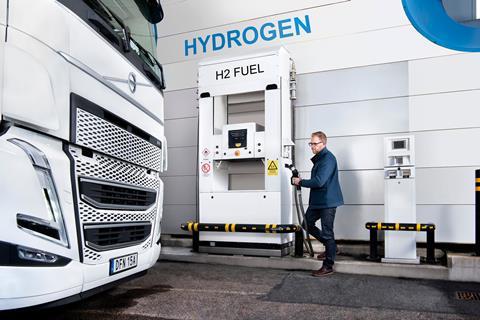 The German Federal Ministry for Digital and Transport has approved funding for BMW, in cooperation with five other partners, to develop technology for hydrogen combustion heavy haulage trucks. Rather than using fuel cell technology, the project is to develop hydrogen combustion engines for the trucks, which in theory is a low-to-zero emissions form of propulsion.
The project is called Hycet (Hydrogen Combustion Engine Trucks) and has been awarded €19.5m ($19.3m), of which €11.3m comes from the German government. Over the course of Hycet, which is set to run for four years, the German Federal Ministry for Digital and Transport will also provide €5.7m for heavy truck-suitable hydrogen refuelling stations in Leipzig and Nuremberg. BMW's partners on the project are Deutz, DHL Freight, Keyou, TotalEnergies Marketing Deutschland and Volvo Group.
"Hydrogen technology offers us the chance to rethink mobility," said Daniela Kluckert, parliamentary state secretary to the Federal Minister for Digital and Transport. "In particular, the varied demands of transport logistics call for suitable responses. Hydrogen is a good energy-storage solution for climate-friendly transportation that can supplement battery-electric mobility."
The Hycet project assesses the use of hydrogen combustion engine technology for the transport of heavy goods. Kluckert said the results obtained from real-life operation will contribute to competition between alternative drive train technologies in the field of logistics. BMW has been working to green its logistics operations both inbound and outbound, to make delivery of its vehicles emissions-free.
BMW does not make trucks so project partner Volvo Group will provide the vehicles, ultimately to be used in BMW's logistics. The project aims to develop two 18 tonne trucks and two 40 tonne trucks, to be tested by BMW and Deutz. Deutz has already developed a 7.8-litre hydrogen combustion engine, which will be used in the 18-tonne trucks as an initial phase of the project. A second, 13-litre engine will be developed by Keyout for use in the 40-tonne trucks, which will be operated by DHL Freight for BMW Group. Two hydrogen fuelling stations in Leipzig and Nuremberg will be developed by TotalEnergies.
Most past projects to use hydrogen in trucks have focussed around fuel cell stack electric vehicles (EVs). Large trucks have significant advantages over cars or light vehicles for hydrogen use because their chassis can accommodate more sizeable tanks to store the hydrogen and the engine chamber is relatively large, which means a larger and thus higher-powered fuel cell stack can be housed.
Hydrogen combustion does not result in carbon emissions, so has been touted as a greener, cleaner option. Toyota, in particular, has looked into adapting diesel vehicles to become hydrogen-powered, with a Corolla adapted from diesel to hydrogen combustion competing in the 2021 Super Taikyu Series racing championship after only relatively minor adjustments to valves.
Efficiency with hydrogen combustion is generally lower than with petrol or diesel, however, in applications like trucking where the load can be continuous efficiency is significantly better manageable. Although the direct products from hydrogen combustion should only be water, at high temperatures the process can lead to NOx emissions, calling into question the genuine 'zero emissions' credibility of hydrogen as a combustion fuel.
DAF previously developed a hydrogen combustion engine truck, the XF H2 Innovation Truck, which won this year's European Truck Innovation Award.