Geodis is working with Volvo Trucks on a pilot project testing the use of a fully electric trucks for freight deliveries in Australia, including for automotive spare parts.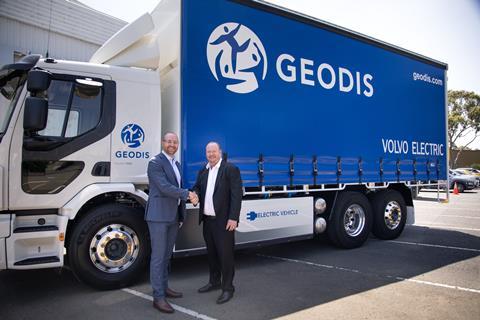 Geodis will first be assessing driving range for heavy goods deliveries with a Volvo FE truck across 200km routes in metropolitan areas. It will operate between Geodis headquarters in Matraville, Sydney, and Volvo Group Australia's parts distribution centre in Minto, around 50km away.
The truck, which has a range of 220km, will be charged using infrastructure supplied by ABB, with a percentage derived from solar energy. Goodman Group also been involved with the project to install solar panels and charging infrastructure across Geodis' facilities, paving the way for the further electrification of the Geodis fleet.
The truck will provide sustainable deliveries alongside existing freight forwarding services in the country and Geodis said it would look to expand the use of etrucks on larger-scale rollout once the pilot project is reviewed.
Geodis has been working with Volvo Australia's e-mobility team to train drivers and plan more efficient routes and loads.
"The new fully electric truck is dedicated to carrying the spare parts for vehicles, ranging from cars, trucks and buses," said a spokesperson for Geodis. "This is the first time in Australia that a freight forwarder has deployed a large electric truck in its fleet and we are excited about the possibilities that the vehicle presents in replacing conventional diesel trucks."
Low-carbon logistics
Geodis said the use of the etruck would cut carbon emissions by 95% compared to the diesel trucks it uses. The etruck will also completely remove fine particles and nitrogen oxide emissions.
"This initiative serves not only as a testament to our long-standing relationship with Volvo but also to our collective vision to decarbonize the supply chain industry, even as we continue to expand our services to meet evolving customer needs," said Stuart Asplet, sub-regional managing director for the Pacific region at Geodis.
Tim Camilleri, electromobility manager, Volvo Group Australia, added: "Bringing low-carbon and more circular transport solutions has always been a key priority for us, and this strategic partnership is one of the many steps that we are taking to build a more energy-efficient transport ecosystem for the market," said
Geodis provides services for its automotive customers across a network of regional distribution centres across the Asia-Pacific region. That includes contract logistics services and last mile deliveries to the vehicle dealerships.
"Our freight forwarding capabilities cover inflows via air and ocean, and we are the second largest customs brokerage in Australia," said the spokesperson for Geodis. "In particular, our automotive clients rely on Geodis to ensure all their semi-finished products and supplies arrive on time into Australia, in accordance with their business needs."
The logistics provider said it is implementing other low-carbon transport systems, and building efficient, multimodal transport networks that use of rail, short-sea shipping, and inland waterways. Geodis has also launched its Sustainable Fuel Program worldwide, which aims to accelerate the use of alternative and renewable fuels, including those used by ocean-going vessels, to reduce greenhouse gas emissions.