Austrian car carrier and trailer manufacturer, Kässbohrer, is developing a battery-powered car transporter that uses electric power not only for its powertrain but also its lifting and loading systems – something the company claims to be a world first for the vehicle logistics sector.
Kässbohrer is collaborating on the transporter with Swiss engineering firm Designwerk Technologies, which builds the electric tractor for the transporter under its Futuricum brand. Sweden's Volvo Group owns a 60% stake in Designwerk and builds most of its chassis equipment.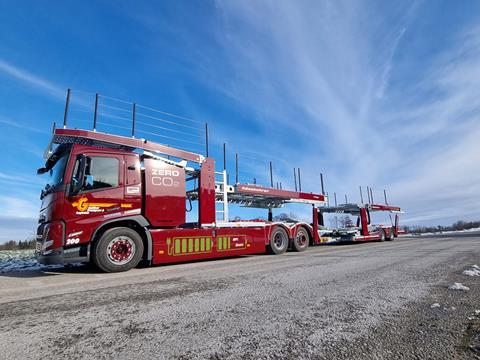 Switzerland's Galliker Transport will be operating the transporter for finished vehicle deliveries.
The Futuricum car transporter has four modular battery packs with a capacity totaling 900kWh, which Designwerk and Kässbohrer claim will be capable of covering 450km on Switzerland's roads each day. Furthermore, if a fast charge is required, the transporter can charge 80% of the installed battery capacity in just one hour.
The storage capacity of the electric truck consists of four 225kWh lithium-ion batteries. Conversely, an average electric passenger car has 40-60kWh net energy content capacity. The truck has a special permission to carry extra weight because of its battery size and storage capacity.
Horst Fößl, head of development at Kässbohrer, pointed to the fast pace of new technologies influencing trucking and freight operations, especially in the goal of achieving net carbon zero. For vehicle logistics, he pointed to the progress in developing a fully electrified trailer and lifting system to go with electrified chassis and powertrains.
"In the recent past, we have already put bodies with battery-powered functional systems on the road," he said. "A purely electrically powered truck, including an electrically powered superstructure, is an absolute novelty and a next big step."
Efficient, economical and ecologically sustainable vehicle transport will be the decisive key criterion more than ever in the future," said Kässbohrer CEO Günther Percht and sales director Markus Guggenbichler.
The project was first unveiled in autumn 2021 and left the Kässbohrer premises in Salzburg just a few months later. It is now being registered for practical use and real-life testing.
"With the completion of this electric car transporter, we are making a clear statement," said the founder of the Designwerk Group, Tobias Wülser. "Electric passenger vehicles can now be delivered to dealerships with zero emissions. Making a further contribution towards sustainable mobility is important to both automotive manufacturers and us."