Kuehne+Nagel has installed solar panels on the trucks it uses to make deliveries in the Netherlands in an effort to lower carbon emissions. The logistics provider has also introduced the option for customers of using biofuels for container shipments on global trade lanes.
The photovoltaic panels fitted to its trucks in the Netherlands generate solar energy to power each truck's electronics, including the alternator. It adds up to a monthly saving of 100 litres of fuel per truck, according to the company.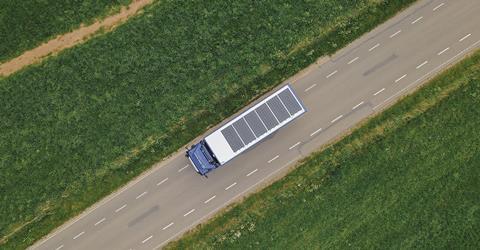 The panels and supporting technology are being provided by IM Efficiency, which specialises in providing mobile solar systems. SolarOnTop is its first commercial product for transport companies.
Over the course of a year the solar panels can reduce fuel consumption by 1,200 litres per truck, equal to a 6% saving in fuel consumption and cutting CO2 emissions by 3.8 tonnes, said Kuehne+Nagel.
As well as the alternator, the solar power is also being used to power the air conditioning in the truck, as well as the tail lift used for loading and unloading freight. It can also be used to charge electric appliances, such as mobile devices and computers.
The truck driver is able to measure how much solar electricity has been delivered to the vehicle by the solar panels and how much per activity is consumed.
René van den Akker, national manager of road logistics for the Benelux region at Kuehne+Nagel said the company was focused on decarbonising transport and logistics, and creating more sustainable supply chains.
Martijn Ildiz, CEO of IM Efficiency, said his company was proud to support Kuehne+Nagel's commitment to reducing CO2 emissions.
"By providing a sustainable solution to reduce fuel consumption of trucks with SolarOnTop, we are supporting the transition to fully sustainable road transportation in the future," he added.
Sustainable biofuels
Meanwhile, the logistics provider said it had secured enough biofuel to provide customers with a more sustainble option for the ocean transport of up to 40,000 TEU containers. The company said it could guarantee its 100% avoidance of greenhouse gases from ocean transport because the biofuel's production emissions and lower density compared to conventional fuels are overcompensated.
Kuehne+Nagel said the biofuels conformed with the EU's Renewable Energy Directive on sustainability and the targets for greenhouse gas emissions that need to be reached by 2030, otherwise known as Red II. EU member states must require fuel providers to supply a minimum of 14% of the energy consumed in road and rail transport by 2030 as renewable energy.
"Kuehne+Nagel is committed to saving the emissions of 40,000 TEU through the use of biofuel," said Otto Schacht, head of sea logistics at the company. "We have secured this as the first of several high-volume options to offer our customers easy access to direct CO2e [greenhouse gas] emissions-free transport. We would like to encourage our customers to join us on the path to a zero-carbon future."