Mercedes-Benz Trucks is aiming to electrify the fleet of trucks it uses to bring inbound material to its Wörth plant in Germany by the end of 2026. It will begin with a pilot phase using 300 electric-powered Mercedes-Benz eActros tractors, later adding the eActros LongHaul and other models. The first fully electric deliveries to the plant will begin next year.
The commercial vehicle maker said it would also be cooperating closely with freight forwarders to increase electric mobility in their own truck fleets and logistics operations. It will be installing a charging infrastructure at the Wörth plant for both its own and its partners vehicles to support the emission-free delivery of parts. That will comprise of 50 separate charging points, including megawatt charging stations for high-performance battery charging. The charging columns will be located at key points for delivery traffic in the immediate vicinity of production at the Wörth plant.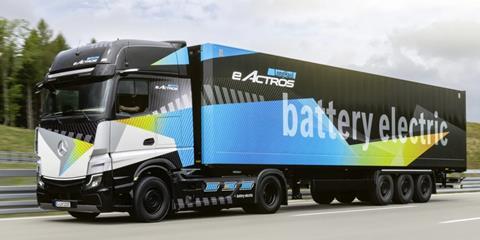 "We are working intensively on the electrification of our own direct supply chains," said Karin Rådström, CEO Mercedes-Benz Trucks. "There is great potential here, as well as great interest among our partners, whom we are strongly supporting on this path."
Recharging en route
Mercedes-Benz Trucks will work with freight forwarders on the analysis of regular delivery routes, looking at travel times and distances between delivery locations, charging options and individual truck ranges. The truckmaker said it would also support logistics partners in the integration of electric trucks into existing fleets and the realignment of logistics centres.
At the Wörth plant, inbound parts are delivered just-in-time (JIT) to the assembly line. The company said that in future, the time during which the incoming parts are unloaded will be used to recharge the delivering truck's battery.
"In this way, the vehicle ideally does not have to schedule further downtime and can resume its route directly after parts delivery," said the company in a statement.
The team at Wörth is also looking into the advantages of building a new consolidation centre near the plant to optimise delivery flows and rebundle incoming parts.
In a next step, plans are to extend this process to other plants in the Mercedes-Benz Trucks production network.
Long-haul electric
For long-range deliveries Mercedes-Benz Trucks is developing the eActros LongHaul, which is due to start series production in 2024. The electric truck will have a range of around 500km on a single battery charge and be capable of megawatt charging. The Mercedes-Benz eActros 300 variant for flexible heavy distribution transport, is planned for next year.
Daimler Truck, the parent company of Mercedes-Benz Trucks, is participating in the High-Performance Charging in Long-Distance Truck Transport (Hola) project, organised by German Association of the Automotive Industry. The project aims to build and operate a select high-performance charging infrastructure for long-distance battery-electric truck transport
Two high-performance Megawatt Charging Systems (MCS) will be set up at four locations in Germany, along the A2 route between Berlin and the Ruhr region, along which electric trucks will travel. Two locations directly on the road will be used, as well as two locations in logistics hubs. At the end of the project, eight CCS charging points and eight MCS charging points will be available at four locations to support the real-life testing of this new system and form the basis for a nationwide expansion of this technology.