Höegh Autoliners has signed a contract with China Merchants Heavy Industry (CMHI) shipbuilders for the supply of four Aurora-class car carrying vessels, each with a capacity to carry 9,100 vehicles.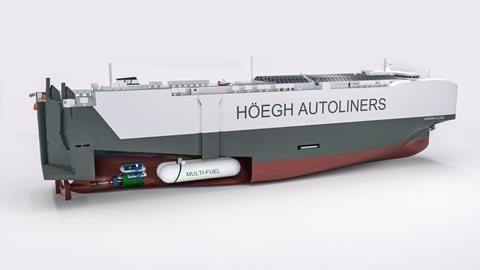 The signing of the contract follows an initial memorandum of understanding signed in June last year.
The dual-fuel vessels can operate on zero-carbon ammonia and methanol, as well as on liquified natural gas (LNG) and convention marine gas oil (MGO).
They are the first vessels in the pure car and truck carrier (PCTC) class to run on zero-carbon ammonia, which means the only by-products released are water and nitrogen. According to Höegh the Aurora class vessels are the world's largest and most environmentally friendly car carrier.
The first two vessels are due to be delivered in the second half of 2024, with the next two in the first half of 2025.
As part of the deal Höegh has the option to purchase a further eight such vessels from the shipyard.
"The innovative design of the zero-carbon ready Aurora class will enable our customers to decarbonise their supply chain," said chairman, Leif Hoegh. "Together with CMHI we are leading the way towards a net-zero emissions future for our industry."
Höegh Autoliners said it had lowered its carbon footprint by 37% across its fleet since 2008 and aims to reach a net-zero emissions target by 2040. The Oslo-based shipping company operates 40 ro-ro vessels and predicts earnings before deductions of around $210m for 2021.