Höegh Autoliners has signed a memorandum of understanding (MoU) with Xiamen Shipbuilding Industry in China to build a series of up to 12 Aurora-class car carriers, with the first expected to be delivered at the beginning of 2024. Höegh said that the Aurora would be the most environmentally friendly car carrier ever built.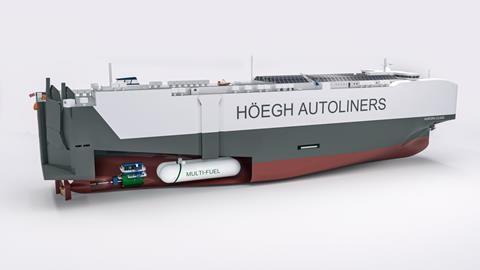 The Aurora-class vessel design was announced in April this year. Each vessel will be able to carry up to 9,100 car-equivalent units and feature strengthened decks and enhanced internal ramp systems. They will also provide resources for electric vehicle transport on all decks, as well as providing more flexibility for heavier project cargo.
The vessels will be able to run on various biofuels and conventional fuels, including LNG. Höegh also said that with minor modifications the vessel's multi-fuel engine could transition to use future zero-carbon fuels, including so-called green ammonia, in which the gas is produced using renewable and carbon-free production processes.
"This will put us in the forefront of sustainable transportation and enhanced cargo capability," said Lise Duetoft, Höegh Autoliners' chief strategy and analytics officer.
According to Höegh's CEO, Andreas Enger, the company is now considering a potential listing in support of the investment in the 12 carriers.
"We are accelerating our decarbonisation efforts to meet our net zero emissions target by 2040 and are committed to build a more sustainable maritime industry," he said in April. "The advancement in propulsion technology and digital solutions will significantly strengthen our capabilities to combat climate change."
Hoegh said that since 2008 it had reduced carbon intensity across its fleet by 37% and was significantly ahead of the global IMO 2030-target of 40% reduction.
Sustainability in the transport of finished vehicles will be under discussion at this week's Finished Vehicle Logistics North America conference which takes place between June 22-23