Samskip has extended a partnership with Netherlands-based biofuels company GoodFuels to run four short-sea container ships out of Rotterdam port. After initially experimenting with biofuel blends, the four ships will now use only biofuels, derived from waste oils.
GoodFuels' MDF1-100 biofuel is made from used cooking oils, which are refined. MDF1-100 is slightly different from GoodFuels' best-selling MR1-100 biofuel, which also uses forest residues as a contributing ethanol, whereas MDF1-100 is exclusively from waste oils.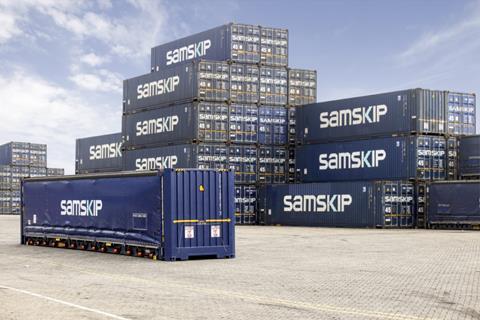 The ships that have been switched over to the fuel are the Endeavour, Innovator, Hofell and Skatafell. All operate out of Rotterdam port, which is also where GoodFuels is based. GoodFuels promises a potential 90% reduction in carbon emissions by using its biofuel, taking into account emissions from drilling the oil out of the ground to the exhaust emissions. The fuel also has the benefit of signficantly reducing sulfur oxide emissions.
The MDF1-100 biofuel acts as a drop-in that can be used without adapting the vessels in any way. It was first trialled in 2019 as a blend on Endeavour, an 800-TEU container ship that works on routes between Rotterdam and Dublin.
Samskip reported that this initially reduced carbon dioxide emissions by 30%, before it moved onto the 100% biofuel, which further cut emissions.
Innovator, an 803-TEU that runs between Rotterdam and the UK was added to the programme in 2021. Hoffell, a 502-TEU vessel, and Skatafell, a 518-TEU vessel, both going between Rotterdam and Iceland, were switched to the fuel this year.
Samskip has said it intends to be net-zero in emissions by 2040, ahead of current legislative goals. The IMO has a target to cut greenhouse gas emissions from shipping, including carbon dioxide, methane and sulphur, by 40% by 2030 and 50% by 2050.
The EU has strict guidelines on biofuels, including biodiesels derived from oil and bioethanols. To qualify as a sustainable alternative to fossil fuels, the feedstock must not be derived from vulnerable or environmentally important environments, such as peat landscapes or wetlands, where exploitation could threaten already fragile biodiversity.
GoodFuels' approach in using used cooking oils means that its products qualify as waste-derived, by EU definition, meaning that no additional agricultural resources go into making them.