A strong uplift in vehicle exports from the UK in September helped domestic manufacturing grow by almost 40%, according to latest figures from the Society of Motor Manufacturers and Traders (SMMT).
Production from UK assembly plants in September hit 88,230, making it the strongest month of growth in 2023 so far. Exports were up more than 32%, with just over 64,700 vehicles shipped abroad, mainly to the EU. More than 37,500 UK-built cars were shipped to the region in September, up 46% on the same month last year and representing 58% of the sector's overseas trade, according to SMMT data. Notable growth was also registered in the US (+19.8%), China (+28.2%) and Turkey (+12%).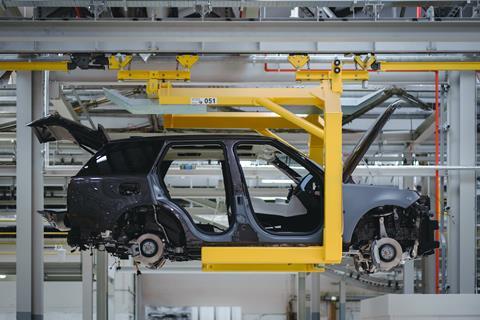 Meanwhile, domestic deliveries were up by nearly 66%, accounting for 23,500 units of the overall September climb. UK plants have made almost 700,000 units year to date – almost 15% above the same period in 2022.
The SMMT figures show that UK exports to global markets have risen by 16% to almost 525,000 units since January this year, with electric vehicles (EVs) accounting for more than a third (37.5%) of outbound shipments, up from 26.4% a year ago.
That EV trade with Europe is important given the direction in which the automotive industry is going and currently supported by tariff-free trade set out in the UK-EU Trade Cooperation Agreement (TCA). However, according to the SMMT this is under threat from tougher rules of origin for batteries which come into force from January 2024.
"Given the value of batteries to the total cost of an EV, the rule changes threaten the competitiveness of both UK exports to the EU and EU imports to the UK market," said the SMMT in a statement.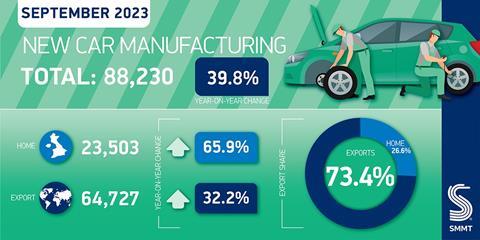 The rules stipulate that EVs need to have 45% EU or UK content from 2024, with a 50%-60% requirement for their battery cells and packs. Failure to comply means a 10% tariff. That translates into an average price rise of £3,600 for a UK-built EV in Europe and a rise of £3,400 for the price of an EU-made EV sold in the UK. The problem is that the EV supply chain is not developed enough in either Europe or the UK to match those demands. The SMMT is calling for a three-year delay to the implantation of the rules in the interests of competitiveness in the UK and Europe.
"Given the increasing importance of electrified car production, the first and urgent step is for the UK and EU to agree to delay the tougher rules of origin requirements that are due imminently," said Mike Hawes, chief executive of the SMMT. "This would give the necessary breathing space for automotive sectors on both sides of the Channel to scale up gigafactories and green supply chains, both of which are essential for a stable, long-term transition."