UK lithium battery cell manufacturer Britishvolt has signed a €36m ($38.3m) purchase agreement with the Monbat Group to acquire EAS, which also makes battery cells.
Britishvolt said the buyout, which includes EAS Batteries, Monbat New Power and Monbat Holding, will expand its commercialisation of lithium-ion batteries for electric vehicles (EVs) as well as help build and supply of cell products to automotive customers.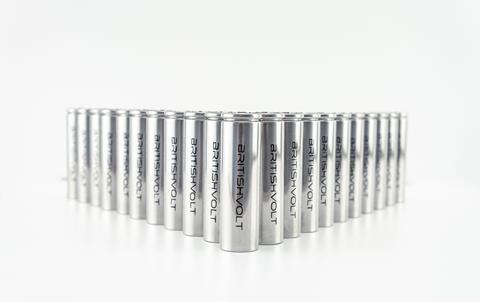 "Our 46xx cell format, developed as part of our wider R&D programme, gives Britishvolt a significant competitive advantage in the battery race," said Orral Nadjari, founder and CEO of Britishvolt.
The acquisition of EAS enables Britishvolt to scale up the final part of its 46xx cell development and, according to the company, this cell solution will meet the criteria of next-generation, high-performance and long-range battery technology.
"This acquisition – the second in our short history, and first overseas – underscores the drive and determination of Britishvolt to offer best-in-class battery solutions to our customers," Nadjara added.
The buyout follows the recent announcement that EAS is moving into marine battery products. EAS said it will also facilitate getting battery systems to this particular market segment quicker and support the pathway to decarbonisation.
Britishvolt lauded EAS's track record in providing innovative, tailor-made battery cell products for its customers. It added that it intends to make additional investments in EAS to help to ensure that it can "reach its full potential within the Britishvolt family."
This acquisition follows a series of agreements Britishvolt has signed to expand its business in the UK and secure the supply of battery cell materials.
In March, Britishvolt agreed to establish a joint venture with VKTR, which belongs to Indonesian giant Bakrie & Brothers. A letter of intent initially provides for the construction of a nickel sulphate plant in Indonesia.
It has also signed a long-term cobalt supply contract with Glencore to make batteries and set up a battery recycling network in the UK.
Britishvolt also recently secured £100m ($126.3) in financial support from the UK government's Automotive Transformation Fund for its planned battery cell factory in Blyth.
The location on the British coast supports the company's decarbonisation aims, giving it strategic advantage in accessing hydro and wind power. It also supports a drive from Westminster to localise EV and battery production in the UK rather than rely on supply from Asia and other overseas locations.