Kia Motors has set up a partnership in Europe with energy storage start-up, Encore, to reuse electric vehicle (EV) batteries for second-life energy storage systems. Encore is a subsidiary of German transport provider Deutsche Bahn (DB).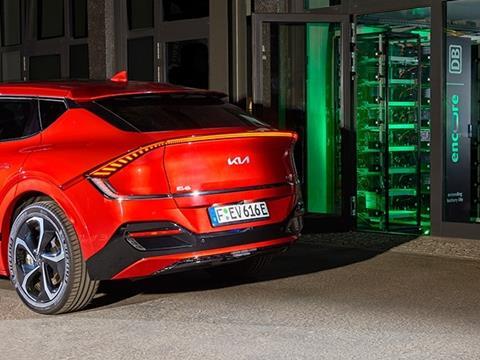 The used EV batteries from Kia dealers across Europe are dismantled to a modular level and reassembled to form scalable battery energy storage systems.
"With our success in the electrification of Kia models, we also take responsibility for the batteries beyond their lifetime in the car," said Jason Jeong, president at Kia Europe. "The pioneering partnership between Kia and encore/DB shows that we regard batteries as a valuable resource in terms of a sustainable circular economy."
Battery transport
DB and Encore already provide a battery take-back service across Europe. The transport of the used batteries and the new energy storage units across Europe is primarily handled by the DB's logistics divisions DB Schenker and DB Cargo. The battery packs are transported to Encore/DB's dismantling partner, DellCon, via DB's extensive logistics network to ensure sustainable and safe transport.
The packs are then dismantled to modular level for diagnostic testing to assess battery state of health.
The first installation of reassembled storage systems will be at the Euref-Campus in Berlin, where reassembled Kia Soul batteries will provide 72kWH of energy for a newly established power grid. The Euref-Campus facility was set up by Kia Europe and DB in August this year and functions as part of a Micro Smart Grid, operated by inno2grid, a joint venture between DB ECO Group and Schneider Electric. The grid links together different energy sources, consumer and storage systems. One of the first applications is for EV charging, and the first vehicle to plug in was a Kia e-Niro.
The Euref-Campus is comprised of 24 battery modules in total arranged over three racks, with each module made up of 14 double cells. According to Kia Motors, the power conversion system is supported by an integrated battery management system (BMS) developed by Stabl Energy. That system compensates for the varying states of health between the battery modules by performing passive or active voltage balancing where needed.
DB's head of infrastructure, Berthold Huber, said it was now more urgent than ever to save power.
"Our new second-life battery energy storage systems offer a solution that is also sustainable," he said. "And that makes it an attractive option for any industry."
Sustainable logistics
DB Schenker and DB Cargo have been increasing the sustainable power generation for freight movements in Germany. In June this year DB Schenker announced that it was shifting more of its urban collect and delivery fleet to electric drives by 2030. The company has already completed more than 1.5m kms with a fleet of nearly 80 electrically powered trucks across European land transport network. 
Earlier this year DB Cargo and automotive logistics centre next to the Mercedes-Benz plant in Bremen. DB Cargo is moving battery systems in a carbon-neutral manner from the Mercedes-Benz plant in Hedelfingen, Stuttgartto Bremen for installation on the Mercedes EQE.
Parent company Deutsche Bahn already uses green electricity to for more than 60% of standard traction current and its freight customers have the options of booking journeys that are powered 100% by renewable energy, such as that generated by wind and hydro power.