Volkswagen of America (VWoA) has opened its battery engineering lab (BEL) in Chattanooga, Tennessee to test and develop batteries for all-electric vehicles in the US.
The $22m site helps VW to expand its global electric mobility drive. Alongside the $800m factory electrification in Chattanooga, the opening of the BEL is part of Volkswagen's $7.1-billion commitment to expand its product line, R&D, and manufacturing capabilities in the North American region.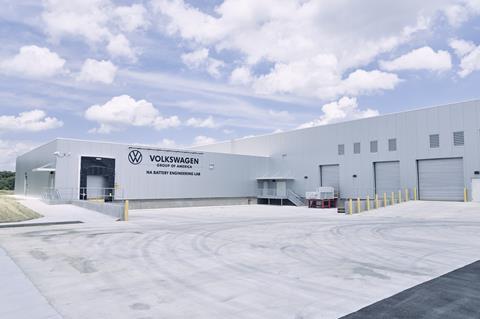 The BEL is VWoA's first facility of its type and one of four strategically located units in the VW Group globally, with the others in Braunschweig, Germany, and two Chinese facilities in Shanghai and Changchun.
VW's modular electric drive toolkit (MEB) is its modular car platform devised by for EV products. Engineers at the four battery facilities will initially focus on batteries and battery packs, with the potential to incorporate various types for all vehicle brands across the company's global enterprise.
The German carmaker aims to investigate emerging battery technologies and develop knowledge of how new concepts and prototypes can support VWs specifications.
VWoA's Chattanooga engineering team consists of over 100 dedicated technicians in various roles, from chassis to driving performance, interior and digital technologies.
The BEL will see an expansion of working on-site or remote via cloud access, a new team of 30 engineers will focus on a number of climatic, mechanical, electrical, and corrosion tests of battery cells and battery packs.
This comes just as VW's first American-assembled EV, ID.4 compact SUV, is poised to hit the market this year.