Honda has identified an initial annual sales target for its fully electric Prologue SUV of 70,000 units. The carmaker's first new volume battery-electric vehicle (BEV) goes on sale in North America in 2024.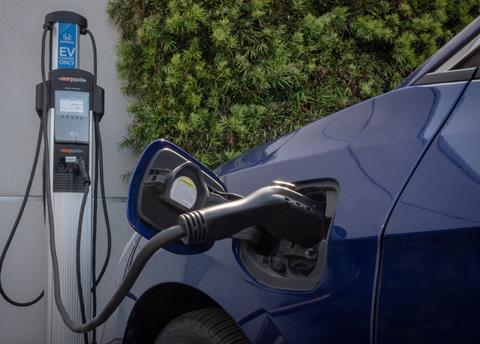 "We are working with our dealers to plan the transition from sales of primarily gasoline-powered vehicles to selling 100% electric vehicles by 2040," said Dave Gardner, executive vice-president of national operations at American Honda Motor.
On the way to that target, the carmaker's EV deliveries will reach 500,000 units by 2030, equal to 40% of overall sales, rising to 80% by 2035. Those vehicles will be based on what the carmaker is calling its e:Architecture platform.
A spokesperson for Honda said that, as the company ramped up for volume BEV sales in two years, it was asking dealers to start preparing for the launch.
"Dealers will need to work on their facilities and plan for installation of several chargers to adequately support the battery capacity [for] new vehicles," said the spokesperson. That includes installation of several tier two and/or DC fast charging facilities to be able to handle that charging.
Partnership with GM
The Prologue will be the first of two EVs powered by GM's Ultium batteries in a partnership between the two companies. The second will be the EV version of the Acura. The battery sourcing deal is part of a broader arrangement that will see the two carmakers sharing 50% of the parts being used in their respective EVs. In addition, the carmakers are standardising motors, batteries and other essential components to gain economies of scale through joint orders from suppliers.
GM and Honda announced in April last year that they were jointly developing two EVs for Honda powered by GM's Ultium Cells battery technology, itself derived from a joint venture with battery maker LG Chem.
Honda would not confirm at this stage where the Prologue and the Acura are being made. Separately, GM has said it is investing $2.2 billion to convert the former Detroit-Hamtramck Assembly plant in Michigan into its first fully dedicated EV assembly facility.
The announcement of the parts sharing initiative follows a comment from Steve Carlisle, GM's executive vice-president and president of GM North America, that the company would seek to use technology and build partnerships to avoid future supply problems, including EV batteries.
Carmakers need better visibility of the supply chain if a disruption similar to the semiconductor shortage is to be avoided. The battery supply chain is highly complex, consisting of several critical minerals, materials and components and OEMs and parts suppliers battling the semiconductor shortage are now also competing with other sectors for minerals and metals as demand for lithium-ion batteries increases globally.
Developments in electric vehicles and the supporting battery chain will be central to discussions at next week's Automotive Logistics and Supply Chain Global Live conference being held in Detroit and online between October 5-7