Honda will be importing test versions of the Cruise autonomous, electric vehicle from the US to Japan this year for use in its Mobility-as-a-Service (MaaS) business there. Meanwhile, Cruise and its owner GM have signed a deal with Microsoft to further commercialise autonomous vehicles through the computing giant's Azure application.
Cruise, which was set up as a self-driving car company in 2013, was bought by GM in 2016 and is now central to the OEM's development of autonomous vehicle technology. This ties in with development of the Chevrolet Bolt, the electric car which it uses as a base for its autonomous driving development vehicles (pictured).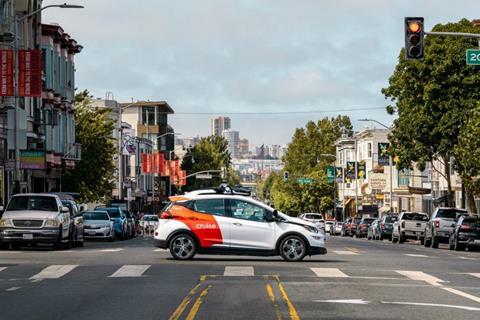 In 2018 Honda announced it was putting $750m into Cruise, with another $2 billion over the next 12 years. As part of the commercial agreements signed at that time between Honda, GM and Cruise, the Japanese carmaker aimed to use the Cruise Origin autonomous vehicle for its MaaS services.
Honda Mobility Solutions, which was established in February last year, will operate the services in Japan.
Takahiro Hachigo, president and representative director of Honda Motor, said the collaboration would promote new mobility services for consumers as part of its 2030 Vision "Through active collaboration with partners who share the same interests and aspirations, Honda will continue to accelerate the realisation of our autonomous vehicle MaaS business in Japan," he said.
In a separate development last week, Cruise and GM said they had entered into a long-term strategic deal with Microsoft aimed at accelerating the commercialisation of autonomous vehicles.
According to the deal, Cruise will use Microsoft's cloud and edge computing platform Azure to scale its AV applications. As part of the deal Microsoft will borrow from Cruise's expertise in the AV field to enhance its customer-driven product innovation and serve transport companies across the globe through continued investment in Azure.
Microsoft will join GM, Honda and institutional investors in a combined new equity investment of more than $2 billion in Cruise, bringing the post-money valuation of Cruise to $30 billion.
"Microsoft is a great addition to the team as we drive toward a future world of zero crashes, zero emissions and zero congestion," said GM chairman and CEO Mary Barra. "Microsoft will help us accelerate the commercialisation of Cruise's all-electric, self-driving vehicles and help GM realise even more benefits from cloud computing as we launch 30 new electric vehicles globally by 2025 and create new businesses and services to drive growth."