The Russian government has started serial production of the state-owned Zetta electric vehicle (EV) at a plant in Togliatti, with the first models expected to hit the market in early 2020.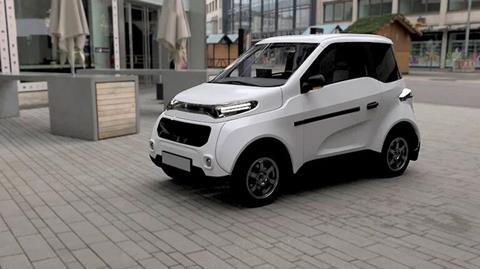 Russian Industry and Trade Ministry Denis Manturov said the new EVs are expected to be the cheapest in their segment on the global market. The price of Zetta will start from 450,000 rubles ($7,300). The Renault Twizy that is cheaper but not marketed as a passenger vehicle, but as either a light or heavy quadricycle.
According to the company, Zetta will have a maximum speed of 120km/h and battery capacity ranging between 10kWh and 32kWh, which means it could make anything between 200km and 560km without a recharge, the company said. The weight of the car is expected to be around 500kg to 700kg.
Certification of the new EVs on the Russian market is nearly over, Manturov said. The government wants to make 2,000 of the EVs in 2020, but annual capacity at the plant is for 15,000. These figures are in line with the company's expectations on demand for EVs in Russia in the short to medium term.
The new plant has highest localisation level in the Russian automotive industry at close to 90%, according to Zetta. One of the few imports, though a crucial one, is the battery, which is supplied from China by GE Power Technology.
No domestic demand
Zetta plans to export the majority of its production abroad to Kazakhstan, Africa and Middle East. Russian press sources report that the export target is 10,000 EVs per year because they are still not popular in Russia.
Russian consulting agency Autostat reported that in the first 10 months of 2019, sales of EVs in Russia tripled to almost 1,000, compared to the same period last year when 297 units were sold. The most popular models were Jaguar I-Pace (119 units) and Nissan Leaf (114 units).
In 2018, Russia announced a series of support measures to boost domestic sales of EVs from fewer than 100 units in 2017 to nearly 100,000 units by 2025, or 4%-5% of overall vehicle sales. On May 4, the Eurasia Economy Union (EEU), a trade block of Russia, Belarus, Kazakhstan, Armenia and Kyrgyzstan, revealed a plan to almost entirely exempt OEMs from paying custom duties on automotive components for EV assembly in Russia.
The Industry Ministry said that it would spend around 4.5 rubles ($70m) to support the domestic demand for EVs, although so far that state aid has not been approved by the government.
In addition, no efforts have been made so far to develop a charging infrastructure for EVs. There are between 200 and 250 charging stations in Russia, with almost all of them are located in Moscow and St Petersburg.