Chinese electric vehicle maker, XPeng, has delivered almost 46,000 cars in the first eight months of the year in domestic sales and exports. The carmaker began distributing vehicles in June last year.
Last month the carmaker delivered more than 7,200 units, with the more significant share made up of the P7 sports sedan (7,214) and the rest made up of the G3 smart compact SUV (1,049). XPeng started deliveries of the G3 to Europe in September last year.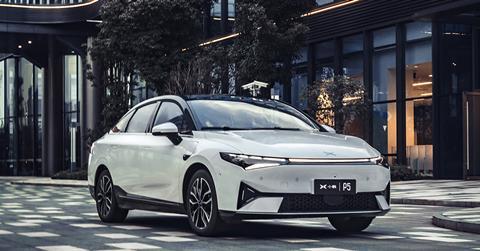 August also marked a production switch to the G3i, described as a "mid-cycle facelift version" of the G3. Production is based at XPeng's main facility in Zhaoqing, Guandong province and located in the Zhaoqing Xpeng Motors Intelligent Industrial Park. That facility has installed an annual production capacity of 100,000 cars.
Last week the carmaker also officially launched its third model, the XPeng P5 family sedan, which is also being made at the main Zhaoqing plant, with deliveries in China starting in October this year.
China is looking at being the world's number one producer, exporter and user of 'new energy vehicles', which includes fully electric, plug-in hybrids and fuel cell versions. That has been helped by government policy to encourage EV sales and production, which has led to significant growth in the segment and helped develop a well-established supply chain for EV production, particularly when it comes to the lithium-ion batteries used to power them.
Exports from China to Europe (and the rest of the world) are being helped by the comprehensive international trade and infrastructure plan introduced in 2013 and known as the Belt and Road Initiative, which has rapidly progressed the development of services by land and sea.