Increasing taxation, rising tariffs and shrinking state aid in Russia are compounding the impact of falling vehicle sales and causing headaches for the finished vehicle market in the country
Increasing taxation, rising tariffs and shrinking state aid in Russia are compounding the impact of falling vehicle sales and causing headaches for the finished vehicle market in the country.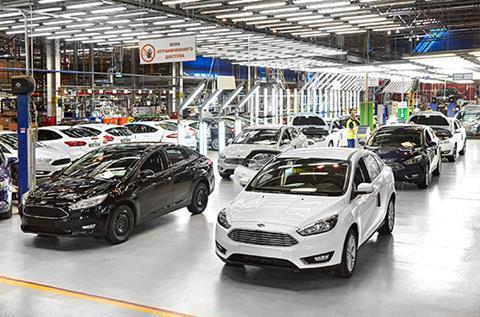 In total, 1.1m vehicles were sold in Russia from January to September of 2019, down 2.3% as compared to the same period the previous year. Sales had begun to gradually recover from a slide that began in 2012 and reached a record low of 1.45m in 2016. Between 2017 and 2018 those sales crept up to 1.8m but the market is unlikely to even match that figure this year.
In 2013, Russia's Industry and Trade Ministry forecast that sales on the domestic market could reach 4m in 2020. That now seems a long way off.
Speaking on the sidelines of the Eastern Economic Forum, Russia's Industry and Trade Minister Denis Manturov said that vehicle sales were declining again because of the falling purchasing power of Russian consumers. Manturov added that the government was allocating some state aid to stimulate domestic demand and estimated that an additional 75,000 vehicles could be sold this year.
Jorg Schreiber, chairman of the Russian Association of European Businesses, expressed similar opinion, saying that sales were below the level achieved last year and that low purchasing power was to blame. That purchasing power has been gradually falling since 2014. Russia's Economy Development Ministry recently forecast that it may grow in 2020 by 0.1%, although most analysts consider this outlook as too optimistic.
Less money, higher prices
In fact in 2020 the Russian vehicle market is facing an increase in vehicle prices. Russia's Industry and Trade Ministry has announced plans to raise the rates of the utilisation fee on vehicles by an average of 110% from 1 January 2020. The fee is applied to cover the cost of recycling the vehicle at end-of-life. The increase in the fee is going to be uneven, with a 46% increase for vehicles with 1-litre engines and an increase of 145% for vehicles with a 3.5-litre engine.
Manturov said that because of this increased utilisation fee he expected the price of finished vehicles on the Russian market to go up by 4%.
The increasing utilisation fee will drive up the prices for both imported and locally made finished vehicles, commented Sergey Udalov, senior analyst of the Russian consulting agency Avtostat. Carmakers commonly increase prices proportionally to the increase in the utilisation fee and he said the sharp price hike would scare off customers amid their falling purchasing power.
In addition, the government has lowered the price threshold of vehicles that Russian citizens are able to purchase with state aid from 1.45m rubles ($23,000) in previous years to 1m ($15,000) starting from 2019. This year, the purchasing of all most popular models such as Kia Rio, Hyundai Creta, Hyundai Solaris, Nissan Terrano, Volkswagen Polo and most of Avtovaz's models were subsidised from the federal budget, according to analyst Avtostat.
The upcoming increase in prices could push some of these models beyond the boundaries where finished vehicles are eligible for state aid.
In addition, vehicle prices next year could be hit by the rising cost of finished vehicle logistics, in turn affected by the increases in the Platon electric toll. The Platon System was introduced by the Russian government in mid-2015 to offset damage to Russia's federal highways and applies to trucks over 12 tonnes gross vehicle weight (GVW). The fees went up from July 1 this year with Rub2.14 ($0.032) charged per kilometre. That figure is slated to increase to Rub2.2 ($0.034) from 1 July of 2020 and to Rub2.35 ($0.036) from 1 July of 2021, the Russian Transport Ministry announced earlier. Since most finished vehicles in Russia are transported by automotive carriers, this increase could be quite sensitive to the industry.