Grimaldi has increased the number of ro-ro vessels it has on order from shipbuilders in China to 15. Each vessel will have capacity to carry 9,000 vehicles and the vessels will be deployed on lanes between Europe, north Africa and Asia.
Grimaldi signed an order in late October last year with China Merchants Heavy Industries Jiangsu (CMHIJ) for five new pure car and truck carriers (PCTCs), with the option included for a further five vessels, which it approved last week. This month it also ordered five PCTCs made to the same design and dimensions from two subsidiaries of China State Shipbuilding.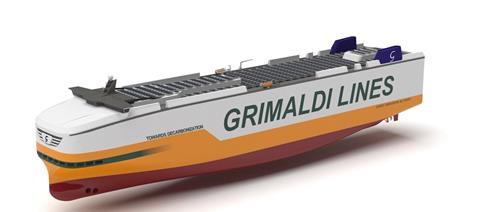 The vessels are being delivered between 2025 and 2027.
The decision by the Italian maritime logistics provider to increase its fleet comes at a time when carmakers are a dealing with a global shortage of ro-ro capacity for vehicle shipments. According to Grimaldi, that shortage is not down to an increase in the number of vehicles produced worldwide but the need for vessels to deliver vehicle volumes over greater maritime distances. A good example of that is seen in China, which is a global leader in the production of electric vehicles (EVs) and now increasing the amount of EVs it exports to regions, including Europe and Australia.
Sustainable shipping
All 15 vessels are certified for eventual conversion to the use of ammonia as a zero-carbon marine fuel. In the meantime, they will be equipped with mega-lithium batteries, solar panels and be able to connect to on-shore power sources when in port, all designed to lower emissions. Additionally, the new vessels will feature an optimised hull design and propulsion technology, which involves an air lubrication system that reduces the resistance between the ship's hull and seawater by distributing air bubbles across the hull.
The design of the new vessels was developed by Grimaldi and Knud E Hansen naval design and architecture studio.
Grimaldi said that overall the vessels will be able to cut fuel consumption by 50% compared to the previous generation of car carriers.
"With our recent orders for the construction of new PCTC vessels, we've strengthened our long lasting and fruitful collaboration with China Merchant Industry Holdings," said Grimaldi's managing director, Emanuele Grimaldi. "We've also reaffirmed our commitment to our customers, especially the world's leading car manufacturers who continue to reward us with their trust."
Over the last couple of years Grimaldi has invested around $2.5 billion in new vessels and will take delivery of 25 over the next five years. Along with the 15 ammonia-ready PCTCs (with option for another two units), that includes six G5-class ro-ro multipurpose vessels, two GG5G-class hybrid ro-ro ships and two Superstar-class ro-pax units (for its subsidiary Finnlines).
Grimaldi said it was vigorously pursuing the upgrade and renewal of its fleet, which currently numbers 130 ships worldwide.