Grimaldi Group has signed an agreement worth $500m with South Korea's Hyundai Mipo Dockyard for the construction of six container ro-ro (conro) vessels classed as G5 and able to transport 2,500 car equivalent units or 4,700 linear metres of rolling freight, as well as 2,000 container units.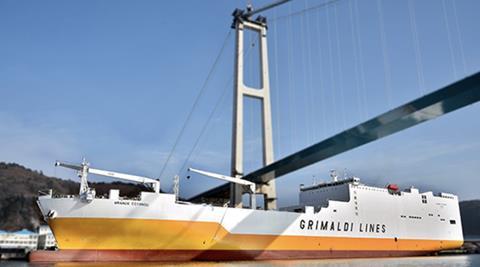 The G5-class vessels will also offer increased energy efficiency and reduced environmental impact, according to Grimaldi, equal to a reduction in CO2 emissions per tonne of cargo transported of up to 43% compared to other ro-ro ships in Grimaldi's fleet.
"The new series of ro-ro multipurpose G5-class ships was designed to respond even more efficiently to the demand for quality transport services on deep sea routes, reconciling the needs related to international freight traffic with that of protecting the environment," said Gianluca Grimaldi, president of Grimaldi Group. "We are thus taking a further, important step within a path undertaken for years now with the aim of operating on all our main routes with an increasingly young, modern and eco-sustainable fleet."
The vessels are expected to be delivered between the beginning of 2023 and the end of 2024. They will replace older vessels in Grimaldi's fleet and deployed on services between northern Europe and west Africa, including Lagos in Nigeria.
This is the third consecutive class of ro-ro vessels Mipo has supplied to the Grimaldi Group, having already delivered six G4-class ships and five G3-class units. The shipbuilder has also supplied Grimaldi with 10 Eurocargo-class ro-ro vessels.
In January this year the Grimaldi Group took delivery of the Eco Livorno from China's Jinling shipyard. It is the third of 12 hybrid vessels Grimaldi has ordered from Jinling in the Grimaldi Green 5th Generation (GG5G) class, providing greater capacity on short-sea routes.