A major earthquake hit Japan on March 16, causing further disruptions for the already impaired global automotive supply chain.
OEMs are monitoring the residuary effects of the 7.4 magnitude earthquake, which hit off the coast at Fukushima, in the same location as the devastating 2010 earthquake and a less damaging one in 2021. Toyota and Renesas Electronics, a major supplier of semiconductor chips for the automotive industry, are among those who have been affected.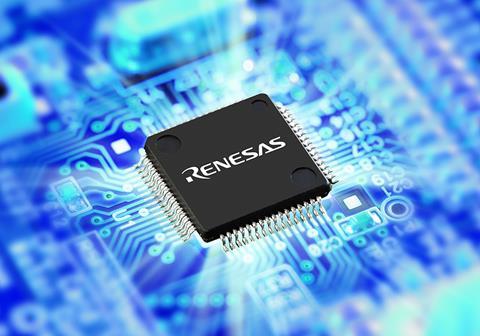 Toyota announced it would be suspending operations at more than half its plants across Japan. The automaker said 18 production lines at 11 plants (out of 28 lines at 14 plants) would be closed for three days because of earthquake-related supply problems.
"Due to the parts shortage resulting from suppliers affected by the earthquakes, additional adjustments will be made to production operations in some plants in Japan," Toyota said in a statement.
Renesas Electronics, which produces nearly one-third of the microcontroller chips used in vehicles worldwide, also said it would be restarting production after stopping at two factories, with a partial stop at a third.
Renesas has an essential role in the global automotive semiconductor supply chain. That was highlighted last year after a fire at its Naka plant in Hitachinaka led to automakers such as Ford being forced to cut production at facilities, including many in North America.
Murata Manufacturing, the top global supplier of ceramic capacitors for smartphones and vehicles, said it would be restarting production at two of four halted factories on Friday (18). A fire at a factory that produces chip inductors caused some damage to equipment, leaving the remaining two idled.
The company, which also has production facilities in Malaysia, said it would be shipping components from its stockpile there.
Adjustments and suspensions
Last week's earthquake is the latest in a spate of disruption for Toyota's production. Ongoing problems with the supply of semiconductors and the impact of Covid-19 on staff numbers has forced Toyota to revise output down by 150,000 units between April to June, the latest revision to production forecasts that have plagued it since last year. It was also hit by a reported cyberattack last month.
The latest suspensions will see the output of Toyota-brand models, including the Crown and Yaris passenger cars, reduced, as well as the RAV4, Harrier, C-HR crossovers and Land Cruiser SUV.
Production of the Lexus LS and IC sedans, RC and LC coupes and NX crossover will also be impacted.
Ford has cut production at facilities, including many in North America. Ford teams "have been monitoring the situation very closely and actively working to determine what, if any, impact this might have on our operations," according to company spokesperson. GM also said it was keeping a close eye on the impact of the earthquake on its operations.
Japanese automaker Subaru said it would suspend production between March 18-21 at two auto assembly plants and an engine and transmission plant in Japan.
Honda and Nissan both said there were little to no impacts to their operations. However, Honda said it suspended a night shift at a Japanese plant when the earthquake broke out.
The global automotive industry has already been dealing with a worldwide shortage of semiconductor chips caused by plant shutdowns. The supply of the electronic subcomponent remains the most pressing problem for global supply chains, adding to pressures now resulting from rising costs, inflation and the conflict in Ukraine with Russia.
According to research firm LMC Automotive, the latest earthquake is expected to cause a drop in vehicle output this year of between 25,000 and 35,000 cars and trucks.
The limited damage caused by the magnitude 7.4 quake last week highlights Japan's success in developing infrastructural resilience against the country's frequent tremors. However, the incident has led to concerns about how further disruptions to the supply precision components, which are vital to electronics and autos production, could occur.