German-based logistics provider Röhlig Logistics has formed a joint venture with Penske Logistics to provide contract logistics services in Europe, beginning with Germany and the Netherlands. Röhlig will own and operate 80% of the new business, called Röhlig Penske Logistics.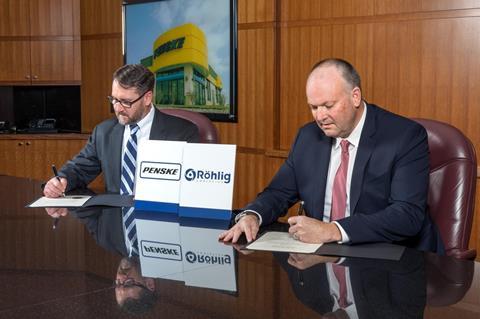 "We have had an excellent working relationship with Röhlig Logistics for many years serving shared customers in the automotive, food and manufacturing segments," said Bill Scroggie, senior vice president, international operations for Penske Logistics. "This new venture provides our shared customers with additional scale, service levels and provides both businesses with additional growth opportunities in Europe."
Röhlig Logistics has previously helped Penske in providing air freight logistics services to its customers, including those in the automotive sector. That successful collaboration has led to the formation of the new joint venture, according to Hylton Gray, CEO for sea freight, air freight, contract logistics and sales at Röhlig Logistics.
"Röhlig Penske Logistics will build on this by offering and expanding our current freight management, 4PL and contract logistics solutions," said Gray.
The joint venture will benefit from 55,000 sq.m of additional warehousing, transport management operations and e-commerce logistics, according to the companies.
Gray said he envisaged great potential in the new venture, which will expand the company's presence in Europe and offer even more flexibility to its customers in the EU.