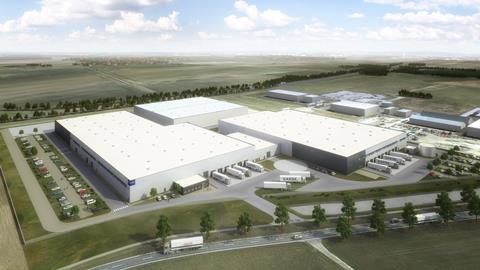 Automotive parts supplier Bertrandt is moving into a new €35m logistics centre in Tappenbeck, Germany, commissioned by Garbe Industrial Real Estate and built by building contractor Goldbeck.
The move brings production and logistics under one roof for the company. Bertrandt will use a 13,800 sq.m warehouse to store vehicle parts including airbags, shock absorbers, tyres and spare parts, for supply to Volkswagen, as well as developing series prototypes in a 17,900 sq.m production hall. Operations are scheduled to begin by mid-June.
"In Flechtorf, we can centralise all workshop activities in one place," explained Ralf Domogalla, technical branch manager of the Tappenbeck site in the Flechtorf Industrial Park. "In the future, areas such as vehicle and component diagnostics, assembly, painting, body construction and logistics will be housed here."
The facility has 16 ground-level doors and 14 dock levellers for the loading and unloading of trucks and swap bodies. The logistics hall is just 500 metres from the junction of Autobahn 39 connecting nearby Wolfsburg to Braunchweig, with onward links to Hanover and Berlin.
Bertrandt recently won a German Design Council's Innovation Award for its Harri autonomous vehicle, which combines the application of the latest advances in digitisation, autonomous driving, connectivity and electric mobility in one vehicle.