BMW has shipped exports of 3,500 vehicles bound for China through the German port of Cuxhaven to avoid delays caused by peak demand at the port of Bremerhaven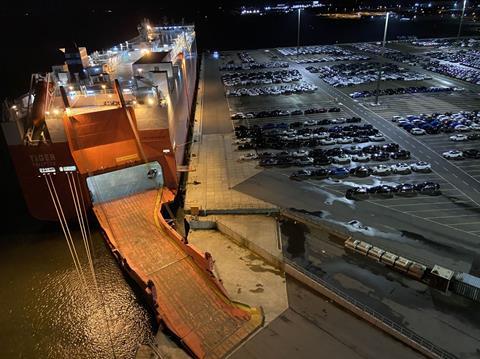 The vehicles were loaded in two batches through Berth No.4 at the port, which is able to accommodate bigger deep-sea vessels. The BMW cars were loaded onto two ro-ro vessels, the Tiger and Torino, operated by Wallenius Wilhelmsen Ocean (WW Ocean) at the beginning of November. All cars were loaded and shipped within the week.
BMW regularly ships vehicles through Cuxhaven, in the north-west of Germany. The terminal through which the vehicles are exported – Cuxport – is run by a joint venture between logistics provider Rhenus Group and HHLA Container Terminals. Rhenus moves short-sea volumes in Europe through Cuxport, including to the UK and Scandinavia and last year it exported its two millionth BMW through the port.
While Cuxport has occasionally served customers as a port for deep-sea spot shipments on previous occasions these have not been for regular liner services, though this could be about to change.
Since the completion of Berth No. 4 in 2018, Rhenus Cuxport is has been working on potential deep-sea liner services with carmakers, as well as various shipping companies, according to Rhenus Cuxport's head of business development for automobile logistics at Cuxport, Oliver Fuhljahn.
Accommodation of bigger vessels will also be helped by the fact that port operator Niedersachsen Ports is expanding capacity at Cuxhaven between berths 4 and 8, adding 1,257 metres of berth space along with 30 hectares of storage and terminal space.
The vehicles were first transported from BMW's plant in Dingolfing to Cuxport by rail providers DB Cargo and ARS Altmann. Upon arrival they were prepared for onward shipment to three ports in China – Shanghai, Tianjin and Guangzhou.
Rhenus Cuxport also handled the necessary customs clearance.
"We've been a close partner for handling vehicles for automobile manufacturers, particularly in the premium sector, for many years and have already reliably transhipped several million new cars at the Cuxport Terminal," said Fuhljahn,