DP World is expanding its network of logistics operations for the automotive industry across the Middle East and Africa, with a focus on integrated services and special economic zones such as its flagship Jebel Ali Port

The opportunities for the automotive industry in the Middle East and Africa are abundant: a fast- growing and urbanising population; a rich supply of natural resources; and governments keen to attract investment.
In 2018, six African nations were among the world's fastest-growing economies, including Ethiopia, Rwanda and Senegal, each with GDP growth above 7%. According to McKinsey, consumer spending in Africa will reach $2.5 trillion by 2025.
Vehicle output and sales are still a fraction of major regions such as Europe or Asia. However, OEMs including VW, Toyota, GM, PSA and Mercedes-Benz are investing in local assembly. These range from North African countries incuding Morocco, Algeria and Egypt, to sub-Saharan markets such as Rwanda, Ethiopia, Kenya and Ghana.
In the Middle East, countries including Saudi Arabia, UAE, Kuwait and others in the Gulf import a high value of vehicle and spare parts. Countries in the Gulf Cooperation Council (GCC) counted automotive trade worth around $55 billion in 2018. Its major trading and transhipment hub is Dubai and especially Jebel Ali Port, operated by DP World. It handles more than 800,000 new and used vehicles each year, along with more than 300,000 TEUs of parts.
The wider region faces political and economic unrest, with complicated trade and regulatory regimes. For automotive companies, the challenge is often a lack of developed infrastructure and logistics services for just-in-time production and consumer supply. Whether in road or port links, customs clearance or multimodal transport, manufacturers and distributors struggle with logistics delays, cost and quality issues across Africa.
Few players have the market presence, political links and investment strategy to overcome such limits as DP World. The UAE-owned logistics giant has a substantial presence across nine countries in the Middle East and Africa, from ports in the UAE to Egypt and Senegal, to inland logistics platforms in Iraq and Rwanda.
DP World's business in the region covers port-related services for containers, ro-ro, customs, warehousing and inland transport; the company also helps to create 'free zones' with tax and investment incentives and plug-and-play logistics solutions. The Jebel Ali Free Zone (Jafza) in Dubai is among the world's most active such zones, with 7,500 companies operating there.
With Jafza as a business case, DP World is planning three further free zones across Africa, in Egypt, Senegal and Somaliland (an autonomous region of Somalia). Together with expanded port and inland gateways, this network will open up trade with Africa from the Suez Canal to the Horn of Africa including central, landlocked countries.
Dubai annual auto trade
Key facts:
$31.6 billion in cars and automaterials
4.4m tonnes/310,000 TEUs in materials
Over 800,000 vehicles
Simon Pitout, vice-president of commercial at DP World suggests that these integrated logistics and free trade areas will be significant enablers of automotive production and trade in Africa.
Integrating services and trade in Dubai
The beating heart of DP World's logistics platform in the Middle East and Africa is Jebel Ali. The port is a major distribution point for vehicles and service parts, covering the UAE and GCC countries in one day's transit or less. It has the region's most comprehensive network of shipping connections, making it a hub for trade and re-export with Africa – notably East Africa – Europe, CIS countries and Asia.
Much of the automotive trade moves between dedicated clusters in Dubai. At Jafza, more than 520 automotive companies operate in vehicle and parts distribution; the Dubai Auto Zone (DAZ), meanwhile, is a dedicated marketplace for selling and distributing used cars. DP World's automotive success in Dubai has been based on integrating space, services and visibility across these zones, terminals, as well as shippers, carriers and customs officials through to final customer delivery or export. Jafza handled automotive trade in excess of $11.5 billion last year.
Technology plays a big role. DP World has developed a digital business portal, Dubai Trade, to help stakeholders connect, clear customs, process shipments and issue payments. It also has an advanced automation system for tracking vehicles from discharge up to delivery to the consignee. It uses traffic algorithms to plan cargo flows, reduce traffic and truck turnaround times.
DP World plans to introduce some autonomous trucks in Jebel Ali by the end of this year, says Pitout. "This will be revolutionary and will future-proof terminal operations in delivering the best services with minimised overheads."
He sees opportunities in Dubai, too. Government incentives encourage new and pre-owned vehicle sales there and in the GCC. Expo 2020 in Dubai, the exhibition's first Middle East location, is expected to attract 25m visitors next year, stimulating demand for fleet and mobility services.
Meanwhile, growing markets across Africa are opening up trade for vehicles and automotive parts. Dubai's integrated logistics services could allow for centralised distribution and even vehicle assembly, Pitout says. Growth in trade and investment from China has also been significant.
DP World is investing in its automotive operations in Dubai, including UAD 250m ($67m) in multi-storey parking garages. "These covered car parks will serve, most effectively, the electric vehicle market, as EVs will not be stored in open yards like gasoline-fuelled vehicles," says Pitout.
DP World Jebel Ali is also exploring partnerships to reduce costs and help OEMs and suppliers reach markets quickly and at lower cost. It now has an in-house logistics provider, Smart Solution Logistics (CFS), which moves vehicles and containers to and from the quayside, as well as packing hundreds of vehicles in and out of containers each day. It works with third parties to offer more facilities and value- added services at the port such as pre- delivery inspection for vehicles.
"We're working on export automotive business where the services to the shipper will be provided right from the point of sale through to exiting the country," Pitout says.
Expanding free trade in Africa
Jebel Ali serves as a model for many of DP World's 80 global ports and terminals, from its free trade zones to advanced IT systems. With vastly differing infrastructure and market developments across Africa, the company cannot always follow a blueprint. However, DP World aspires to improve logistics access in a way similar to Jebel Ali.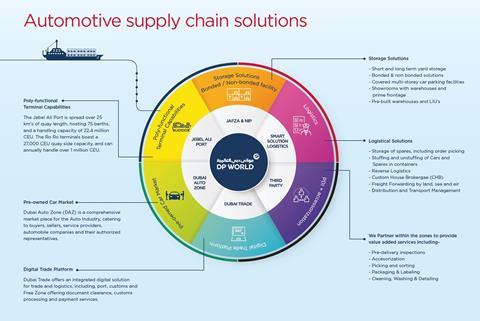 In Algeria, the company is already a major player, handling 25% of the country's total imports at its operations in Algiers, while Djen Djen is a gateway to the country's major industrial sites. In Egypt, DP World Sokhna is the country's only port in the Red Sea and provides access to major cities without crossing the Suez Canal, an advantage for trade with Asia. In 2018, Sokhna saw a 22.3% growth in container trade with China.
DP World is still developing its operations in Kigali, Rwanda; Berbera, Somaliland and Duhok, in Iraqi Kurdistan – locations that already offer key access points to growing automotive markets.
"We see automotive potential across all ofourlocations,"saysPitout."Egyptand Senegal are ready to support growth. Our partnership with Rwanda will also provide more efficient solutions and support to the automotive business. Somaliland, upon expansion, will present an ideal gateway for the horn of Africa."
DP World is ramping up investment in its ports and logistics parks. In Sokhna, construction is underway for a $560m expansion that includes a second basin and a 35-hectare container yard. Meanwhile, DP World has agreed a joint venture with the Suez Canal Economic Zone to develop an industrial and residential zone around Sokhna that will be 1.5 times the size of Jafza in Dubai.
In Dakar, Senegal, DP World has planned a new port and economic zone intended to improve trade flows to landlocked African nations. The facilities will be adjacent to Dakar's new Blaise Diagne airport.
In Somaliland, DP World is developing a greenfield free zone to complement the growth of its Berbera port and target trade for the Horn of Africa. "DP World Berbera not only provides access to one of the fastest-growing economies in the world, Ethiopia, but also to markets in South Sudan, Uganda and the Central African Republic," says Pitout.
To build this integrated approach, DP World is investing deeply in the African supply chain, including buying assets where transport services are limited. For example, it can cost $3,000-$4,000 to move a 20ft container from Kenya's Mombasa to Kigali – four times as much as it costs to ship a container from Shanghai to Mombasa, according to Pitout. There was also no existing car transport service between Mombasa and Darussalam port in Tanzania.
In response, DP World launched Prime Trucking Services, a fleet of car carriers and other trucks covering Rwanda, Tanzania, East DRC, Burundi, Uganda and Kenya.
"The development of this business is part of our commitment to help solve logistics problems in the region," says Simon Pitout.
That is likely to be a big commitment – but DP World has already shown it is willing to invest and deliver the assets and services to help the automotive industry grow in Africa.
For more info visit www.dpworld.com.
To gain unlimited access to the exclusive content and features of Automotive Logistics please SIGN-IN or REGISTER FREE today.