As the automotive logistics sector continues to automate and let technology take the lead, there are some important human factors to resolve if such plans are to succeed – as delegates at this year's Automotive Logistics Global conference in Detroit found out
While the US car market may be slowing down slightly, with figures from PwC Autofacts showing sales set to decline toward 15.9m by 2021 from 16.9m this year, it is by no means unhealthy – and forecasts are for regrowth to more than 17m units by 2024.
However, as was made clear at this year's Automotive Logistics Global conference in Detroit last week, business cannot grow unless there is talent to propel that growth and the shortage of skilled and unskilled labour is now one of the major concerns across the automotive industry, including in the logistics sector. What is more, this problem is not unique to the US.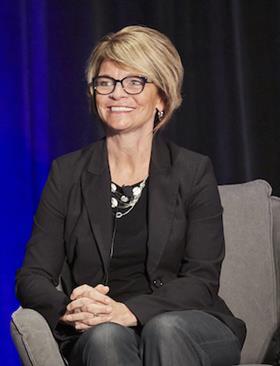 Wendi Gentry-Stuenkel, head of supply chain management at Fiat Chrysler Automobiles in the US, said there had been struggles in the recent past to keep plants running productively enough to ensure a steady supply of vehicles to customers. That was because of insufficient capital investment in equipment, she pointed out, including in the factory and in the transport sector. But now, she continued, the problem was that there were not enough people to man that equipment and human capital was in short supply.
The truck driver shortage, in particular, has become a perennial topic of debate at Automotive Logistics conferences over the last few years and discussions continued in Detroit over how to address this problem. Almost half of delegates canvassed at this year's event put transport as the sector where talent and labour were most needed. One of the problems is that the automotive sector, inbound and outbound, is competing for drivers with other sectors in the context of an overall shortage.
Fortune magazine reported in August that the truck driver shortage in the US had risen to more than 296,300 in the second quarter of this year. The American Trucking Association (ATA) has also said that tonnages in the hire-or-reward truck sector increased through the first half of this year at roughly double the rate of the same period in 2017, at a time when unemployment rates are low. At the same time, drivers in the US are limited to the number of hours they can work, under regulations drawn up by the Federal Motor Carrier Safety Administration (FMCSA) restricting them to a maximum of 11 hours in a 14-hour period after 10 consecutive hours off duty. The transport sector is also faced with an aging driver population: the average age of a driver is now over 55, according to the Bureau of Labor Statistics.
One of the consequences of this shortage is that transport costs are being driven up.
Gary Allen, chief technology officer (CTO) and vice-president of product development at Ryder Supply Chain Systems, said autonomous technology in the form of truck platooning could provide the answer for the driver problem. Platooning is the linking of two or more trucks in a convoy that can effectively be controlled by a single lead driver, using connectivity technology and automated driving support systems.
"We cannot hire enough truck drivers and so we are actively working on platooning and engaged on autonomous trucking," said Allen, adding that new technology was not replacing jobs but augmenting them in a way that made them better. "We have to do this to augment the shortage we have in our business."
Visteon's vice-president and chief information officer (CIO), Raman Mehta, also pointed out that platooning would greatly improve truck driving jobs (making them more attractive) by allowing drivers in an autonomous vehicle to carry out other tasks. However, this was not a technology that was going to appear overnight and would be only gradually adopted, Mehta suggested.
Supply of talent
Labour shortages are not just occurring in the transport part of the supply chain, however. Jim Barnett, president of Americas automotive at contract logistics firm Syncreon, said there was a big problem with staff turnover at its North American warehouses and 10% of the company's hourly workers were changing every month. The company spends $2,000 on every person it has to recruit and is turning over 45,000 people a year, with 80% of that churn occurring in the first 90 days of employment.
The problem is both deep-seated and global. Delegates cited the organisational consultant Korn Ferry's Future of Work report, which states that by 2030 there will be 85m jobs around the world that are unfilled, something that that will mean $8.5 trillion in "unrealised revenue" for the global economy.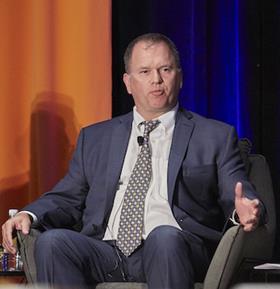 "We have a supply problem," said Barnett. "We are in danger in the US of becoming the next Japan, where you have a recessionary economy because you don't have a growing population and workforce, and you have problems at the macroeconomic level. Everyone needs to recognise this and we need to work on public policy to address the issue."
As far as Michigan goes, the problem of attracting qualified talent has not been helped by a shift in demographics. As Glenn Stevens, executive director of MichAuto – an economic development initiative of the Detroit Regional Chamber aimed at promoting and developing the automotive industry in Michigan – put it: "People have stopped having babies like they used to."
Stevens pointed out that in 2008, Michigan had 135,000 high school graduates but that this number was expected to shrink to 80,000 in the next ten years. Added to this is the fact that the automotive manufacturing community in south-east Michigan is getting older. With 10,000 baby-boomers hitting retirement age every day, the problem of available labour is being compounded.
Career visibility
Demographics aside, delegates at this year's conference were divided over the main reason for the shortages and high turnover of staff. It does not appear to be about pay, suggested Barnett, because automotive jobs are on average paid 17-20% more than equivalent jobs in other sectors. In fact, he said, inflation adjusted income has not moved in 20 years and pent-up demand for workers has been raising salaries, compounding the problem of recruitment and retention.
One issue seems to be making younger people aware of what a job in automotive manufacturing and logistics is actually like.
Joe Petrosky, dean of engineering and advanced technology at Macomb Community College, said the network of 11,000 community colleges in the US was a one of the main sources of qualified workers upon which the automotive industry drew, collectively enrolling 7.1 billion students – or some 43% of the undergraduate population. What those colleges are doing is aligning students with better jobs in the supply chain, according to Petrosky.
"At Macomb, we have the Center for Advanced Automotive Technology (CAAT), which has been sponsored by the National Science Foundation through a unique piece of government funding that was dedicated by Congress to increase the level of middle-skilled individuals in the country," explained Petrosky. He said CAAT's charter was to increase the pool of technicians and that meant garnering interest as early as the sixth grade (at 11-12 years old).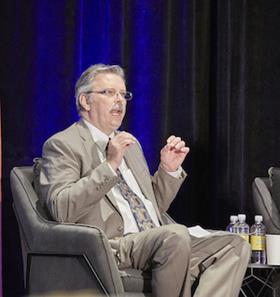 This is important for carmakers, given that the industry has dropped off the radar among younger people. Anu Goel, executive vice-president, group after sales and services at VW of America, reflected that when he was growing up in the mid-1980s, Ford, GM and Chrysler were in the backyard and automotive was an industry one naturally stepped into, but that people going to school no longer seemed to consider it.
That was countered by Tim Butler, however, associate professor of global supply chain management at Wayne State University, who said that people did want to work in the car industry at a boom time for automotive, reflected in good wages. As at Macomb, what is key to Wayne State's provision of talent to industry is the relationships it builds with carmakers and tier suppliers, something that helps undergraduates appreciate the prospects of a career in automotive, said Butler.
Toyota is working proactively in the other direction under its Co-op programme and attracts students from the schools in their first semester to work at the company. According to Steve Brown, vice-president of logistics control at Toyota Motor North America, the company does not have problems in attracting people to volunteer for the programme.
"When they come in, we tell them that it is basically a job interview," said Brown. "They are co-ops but we want to hire from them."
Grunt work
However, delegates at the conference also recognised that working in automotive logistics was stressful and demanding, making it less attractive to those entering the job market.
Goel referred to the "grunt work" of supply chain management, pointing out that it accounted for 43% of the cost base for VW, which meant one was constantly in the unenviable position of cutting costs – something he has done for each one of the 30-plus years he has worked at VW.
Gestamp's US supply chain manager, Greg Logas, acknowledged the shortage of talent in the industry and asked what could actually be done to attract the next generation of people into work they perceived as unattractive.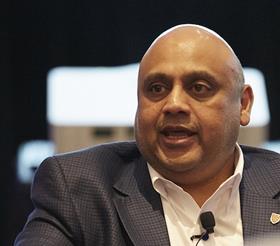 What a number of speakers noted was that young people coming into the business wanted to rotate in the different departments at a carmaker, tier supplier or logistics provider. Rotation, they suggested, was something that appealed to a millennial appetite for variety and applied problem-solving, but also broadened the employee's scope of understanding and helped develop their decision-making skills for a new career. This was something FCA's Wendi Gentry-Stuenkel recognised, adding that a career in automotive logistics was all about rotation.
"I have rotated jobs my entire career every few years and most of them I didn't know existed when I started," she said. "Your career can be a rotation programme."
Nevertheless, jobs in the automotive supply chain continue to suffer from an image problem and are not perceived by the younger generation of workers as being stimulating compared to other sectors, including hi-tech. Silicon Valley companies have better pulling power but there was plenty of evidence at this year's conference that the automotive industry is on the cutting edge of IT and software development – though it badly needs to recruit talent in this area. Petrosky said that Macomb regarded the changing technological requirements of industry as a priority and was constantly adapting and introducing new courses to meet demand.
Babysitting the bots
That seems like a necessary move, given the number of companies rebranding themselves as technology companies.
Srini Muthusrinivasan, director of global industries strategy at JDA Software, said vehicle-makers were now seeing themselves as leading technology providers who happened to be to selling "computers on wheels" or mobility services. However, in the race for technology, Muthusrinivasan said there was a risk of human capital becoming an afterthought. What was important to remember, he said, was that technology was only as important as its ability to add value to business and society – and, by extension, to the people producing it. He asserted that there was going to be an increasing need for cyber-human collaboration and that workers needed to be equipped with the skill sets to manage machines which are already taking on more of the burden of repeatable tasks on a scale beyond that of human ability.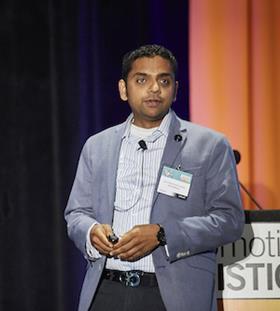 "It is humanly impossible to match up to the speed and the scale of what machines can do today," he confirmed, "whether it is robotic process automation (RPA) or anything tied to machine interfaces or AI."
Matthias Schultz, director of North America material planning and logistics at Ford, said RPA had brought "phenomenal improvements" at the carmaker. Ford is using RPA to validate the bill of materials (BoM) for future models in one application.
"Just setting [the BoM] up for a model to be built five years out would take a guy sitting in an office two to three months to go through all the commodities," explained Schultz. "Someone has now programmed a bot and it takes five hours to get the job done."
The gains for the company of using that technology are obvious, but it is also motivational for a young worker because it embraces the latest technology to do something completely different, according to Schultz.
Muthusrinivasan said that to exploit the full potential of what the latest technology could do was to embrace the acceleration of automation in the industrial sector without losing jobs. Rather it would attract new skills, with workers required to "babysit the bots".
"My answer is that we need to start building the right skill sets the companies will be expecting," he said, adding that there was a fundamental gap in what was being taught and what the emerging technology companies were going to be expecting. "Those skill sets are not about data plumbing, they are about making the right decisions for the good of the company and, down the line, the right decisions for society."
This chimed with the concern expressed by delegates in polling that the logistics engineering skills currently being taught at technical schools were going to be odds with what was required by the sector in the next five to ten years.
This is not just about technical skills either. Barnett said behavioural skills were also important for skilled and unskilled workers, and companies needed people who were engaged, sought experience in different roles and wanted to solve problems.
Gentry-Stuenkel agreed that while there was a demand for technical skills, FCA was also looking for leadership skills and the ability to work in teams.
"Technical skills can be taught but communication skills are very important," she said, stressing the importance of the 'soft' skills which were hard to teach and evaluate.
Again, Glenn Stevens of MichAuto and Joe Petrosky at Macomb Community College made clear that the institutions were flexible enough to respond.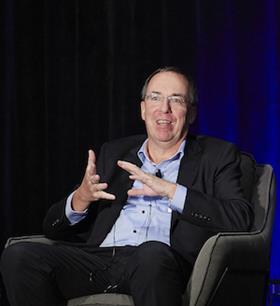 Petrosky said his college had an industry advisory programme that was tweaked according to changes in requirement by industry and as technology advanced, in a way that was designed to produce the right skill set. Macomb Community College has a partnership with the FCA to establish the top areas for hiring, with production supervisors being one profession in short supply. He cited Macomb's new FCA Production Supervisor Programme as an example of how it is responding to industry needs.
Leading the way forward
Attracting new talent to change the automotive supply chain for the better relies on a good leadership strategy and, according to Matthias Schultz at Ford, that means empowering the next generation of employees to use the digital tools at their disposal to do things differently.
"I believe [leadership] is about letting the next generation that is closer to this technology move on [with it]," he said. "Let them get loose with the technology and try things out so they can turn it into something really game-changing, rather than replicating the way we have done business forever. The key is to do it totally differently."
Schultz explained that developing a completely different view of the complete supply chain would be the sort of genuine challenge that would attract new talent. He said traditionally the whole focus of supply chain management for all carmakers had been on supporting production, driving down inventory and streamlining the inbound process. However, while there may be two hours' worth of inventory at the assembly plants there was a massive amount further down the supply chain with tier suppliers holding anything up to 80 days' worth of parts or materials.
"Tier two, three and four companies hold phenomenal amounts of inventory to support our demands," said Schultz. "That is where the opportunity is. Our visibility of the supply chain when you go beyond tier one is close to zero. Developing a complete view of it would attract people. It is a really genuine challenge – not doing what we are doing today with typical tasks."
He went on to say that Ford had had a particular cross-function problem that had been around for 20 years solved by a group of graduates, and that their solution had been applied by the company.
"You must accept there could be better solutions out there," he stressed. "Younger people organise themselves and are creative. A tight control of the process is holding us back and driving away talent."
Sven Dharmani, principal of advisory services at consultant EY, agreed that new talent should be free to experiment with minimal constraint.
"When I look at how we are going to make leaps and bounds, it is about putting just enough constraints [in place] so that they don't fail too far, and letting them be free," he said. Citing the benefits of that approach at his own company, which had brought $200m in savings through the application of RPA to administrative tasks, Dharmani said leadership should encourage tech-savvy workers to look at problems with a different paradigm and come up with fresh ideas.
Adam Pieniazek, senior logistics manager, North America for tier one supplier Magna Powertrain, added his voice to the call for more recognition by leaders of individual talent and the ability to do things differently in the new generation of workers. Pieniazek said that too often, managers locked people into roles that risked stifling creativity and losing talent.
"Ask how much you should teach them the old way before asking them to invent something new," he said. "Ask yourself: is there a better way of doing it? We have to challenge our workers and they like that. They have to be more productive or we will be out of business."
Dangerous curve ahead
But if disruption to established production and logistics processes is the way forward, it is not without jeopardy.
Dharmani said it was exciting to see the amount of energy going into how the industry would handle the convergence of electric and autonomous vehicles in the new sharing economy. He said automotive clients of EY's were looking to free up organisational barriers in an effort to beat inertia. What was even more exciting, he suggested, was how the automotive industry could change the way it worked.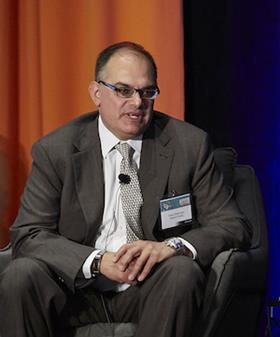 "Instead of being able to create a new vehicle in five years, can we get to a point where we create it in 18 months?" he asked. "That is the biggest disruption I am excited about. How fast can we change our vehicle product lifecycles. Because guess what? A lot of other industries do it."
Disruption of traditional supply chains and the use of new materials that goes along with the convergence of new technologies and the transformation of the car raises other questions, however. The minerals used in batteries are in short supply, for instance.
"Imagine if tomorrow, we produced 50m electric vehicles (EVs)," speculated Dharmani. "Where am I going to get the lithium from? And if I take all the lithium for cars, we are not going to have any more cellphones. Those are the kind of disruptions where I think: are the supporting industries ready for it?"
The switch to electric and autonomous vehicles is a given, according to Schultz, but it is what the customer is going to be demanding along with it that companies need to be prepared for – because any current assessment of that will be wrong.
"We will need to be able to respond much faster to customer demand," said Schultz, adding that the typical product lifecycle of six years will not fulfil the demands of a customer base that expects rapid change and instant gratification from new products. "The companies that can change the product lifecycle fast in response to demand like this will win," he said. "But how do you develop platforms that can respond rapidly?"
Schultz also said carmakers needed to decide whether they were going to be simple hardware suppliers or would also be the providers of in-car services, which is where the real money lay.
Pieniazek was more concerned with what the development of digital technology and AI meant for the average worker, having seen what robotics did to manual labour back in the 1980s.
"We are right on the cusp of seeing technology, through better use of AI and computer software, replace a lot of overpriced clerks around the world," he said, highlighting that society was based on the exchange of labour for money but questioning, if the unemployment rate suddenly hit upwards of 50%, whether society would actually descend into anarchy.
"While we assume technology is good, it begs the question: is society ready to make major structural changes [to compensate]?" asked Pieniazek.
These are the questions that are certainly going to test the talent of tomorrow, but will hopefully also energise the next generation of workers in the global automotive logistics sector.
From programmes to platforms at Visteon
Today's shared economy and greater systems connectivity are changing the automotive supply chain. Digital technology is central to developments in both the make-up of the car, as it moves towards an autonomous form of transport, and in the methods used to supply and build it.
However, as important in supporting the move toward autonomous vehicle architecture is the need to move from programme to platform thinking, according to Raman Mehta, vice-president and chief information officer (CIO) at cockpit electronics provider, Visteon.
Technology is only as good as the business plan supporting it and Mehta explained to the conference that in the traditional set-up for the parts supply and manufacturing of a car, everything is tailored to the programme in hand – something he said was akin to a silo mentality.
This was how Visteon operated when it was a traditional parts-maker supplying seating, air conditioning components and interior systems, among other things. In 2015, however, the company began divesting itself of all but its cockpit electronics products and bought the electronics business from rival supplier Johnson Controls, making it one of the top three cockpit electronics providers in the world.
What it did at the same time, according to Mehta, was invest in platform thinking under a completely new management team.
"When you are making a cluster, a large part of that ecosystem is platform-based – you have Bluetooth, AI and Android," he explained. "You can invest in chipsets and just leave the human-machine interface (HMI) to be configured.
Mehta said that was a lightbulb moment for the company but that it needed a culture change in the organisation, requiring innovation and a different mindset from the leadership, affording latitude to those developing the technology.
Mehta's colleague Nitin Sethi, director of IT – business engagement and transformation, said Visteon was becoming more of a software-as-a-service (Saas) company than a parts supplier.
"We are competing with the big electronic component suppliers," said Sethi, "but we still have to keep up the supply chain pressure. There is a continuous demand for real-time manufacturing and inventory visibility."
From bankruptcy in 2008 and years of underinvestment in technology, Visteon has exponentially increased the software part of its business and is now a technology company sitting on $20 billion of forward business.
"That has basically come about by our commitment to platform thinking," said Mehta. "Now we can leverage what we are doing and make it customer-specific, where it has a customer advantage. That is a big journey and IT has been an integral part of that journey."
As part of a five-step IT strategy designed to transform the business, which included network and security restructuring, as well as the sharing and integration of data on the cloud, Mehta redefined the product lifetime management (PLM) strategy at Visteon.
"It was fragmented across different systems and things can get lost between engineering and manufacturing," he explained.
With a more integrated PLM strategy, Visteon is optimising freight costs and creating a more flexible transport model. According to Sethi, the goal in developing Visteon's new PLM strategy is to improve overall collaboration between engineering and manufacturing. And as part of that ongoing project, the company is working with business on what Mehta called the minimum viable product (MVP).
That refers to a product with just enough features to satisfy early customers and to provide feedback for future product development. From there, Visteon can incrementally improve the product with customer feedback.
Visteon is now focusing a lot of its attention on China, which is leading in its development of smart vehicles and autonomous technology and is where the company now derives 25% of its revenue. The company is aiming to establish one system across the supply chain from procurement to manufacturing where programme management and everything associated with it is in one place. Mehta said he was aiming to deliver the project in 15 months.