Six hundred workers at the port of Liverpool's container terminals have gone on strike again this week following a rejection of the 11% pay offer made by Peel Ports.
The latest two-week strike action is expected to disrupt maritime and inland transport links in Liverpool and the surrounding area. The port handles an average of 700,000 TEUs of goods per year.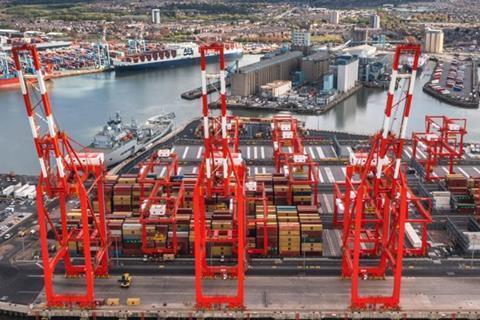 Originally, Peel Port's division, the Mersey Docks and Harbour Company (MDHC), had made a 7% pay offer that the Unite union, which represents port operatives and maintenance engineers, rejected because it was below the high inflation rate in the UK. That rate is currently still above 10%
Peel Port's chief operating officer David Huck said the company had improved the offer six times resulting in a proposal that was "the highest percentage increase of any port group in the UK by far and would see average annual pay rise to £43,275 [$48,954]".
The Unite union said that it had "negotiated in good faith with Peel Ports" but that talks ended when the deal agreed with senior management was pulled by the company's board of management and "ended in farce".
Peel Ports said in a statement that the two-week strike would cause further damage to customers and local business, threatening more jobs at the port. Unite-affiliated workers took two weeks of strike action last month following a pay offer of 8.3% and a one-off payment of £750. The port company issued redundancy notices to 132 workers following that, blaming falling container volumes and difficult market conditions.
The labour disruption comes at a time when the logistics sector in the UK is suffering from capacity and pricing pressures related to a serious labour shortage, soaring fuel prices and other inflationary pressures.
Average container prices continue to decline following two years of exceptionally high rates caused by the clash between a high demand for goods and disruption to container ports caused by the Covid pandemic.