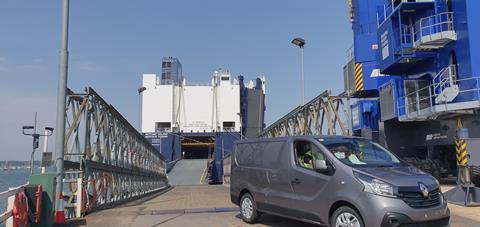 Southampton-based terminal operator SCH has secured a contract to load and discharge all Neptune Lines ro-ro vessels calling at the English port.
The shipper's fleet of Pure Car and Truck Carriers (PCTCs) is expected to call twice a week at Southampton on a European rotation and bring in Renault-Nissan and Dacia vehicles.
Neptune of Greece had previously shared the traffic with Euro Marine Logistics (EML) of Belgium, but has now secured the full volume of UK vehicle imports, which is set to total around 30,000 units per year, according to SCH.
The new handling agreement sees the port and logistics services company becoming Neptune's exclusive stevedores at Southampton and responsible for around half the ro-ro volumes moving through the port.
Renault-Nissan vehicles will be loaded in Spain, while Dacia's units will be transshipped from Zeebrugge (Belgium) on Neptune's PCTCs in a European port rotation of two separate legs, which includes calls in Le Havre (France), Rosslare (Republic of Ireland) and Portbury (UK).
Company director Lee Davis said: "The addition of Neptune Lines to our list of customers will mean that we now handle 100% of the Renault-Nissan traffic coming into [Southampton] and will provide another boost to our cargo volumes."
Among SCH's other contracts is handling Ford vehicles moving through the port of Liverpool, England.
Neptune is an independent short-sea carrier of cars and high and heavy cargoes for manufacturers and shippers worldwide.