[Updated August 9] The UK's biggest container port at Felixstowe is facing major disruption following a vote by almost 1,900 workers affiliated to the Unite union to take strike action in a dispute over pay.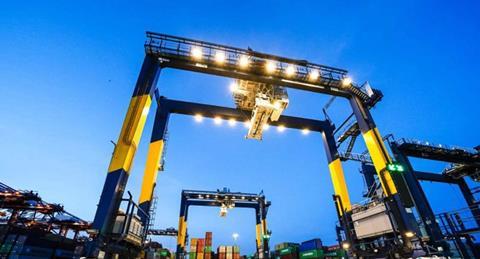 Strike dates have yet to be announced but three subsequent attempts to resolve the dispute involving the UK's The Advisory, Conciliation and Arbitration Service (Acas) – on August 1, 4 and 8 – have failed.
The threat of disruption comes at a time of continuing supply chain problems for UK industry, including the automotive sector.
Felixstowe accounts for 48% of the UK's container trade and processes around 4m TEUs a year. That includes automotive parts and related materials.
According to the Unite trade union, the dispute arose from an offer made by Felixstowe Dock and Railway Company (owned by Hutchison Port Holdings) to increase workers' pay by 5%. Unite said that offer amounted to "an effective pay cut" given the UK's rate of inflation standing at almost 12%. It added that last year the workforce received a below-inflation pay increase of 1.4%.
Hutchison said in a statement it was looking for a resolution that worked for all parties and during talks on August 8 had improved its position by offering a £500 lump sum in addition to the 7% wage increase. Unite has rejected the offer.
"We urge them to consult their members on the latest offer as soon as possible," said Hutchison in a statement. "There will be no winners from a strike which will only result in their members losing money they would otherwise have earned. Our focus has been to find a solution that works for our employees and protects the future success of the port. The union has rejected the company's offer to meet again."

The threat of disruption to the port of Felixstowe comes at a time of widespread supply chain logistics challenges affecting global shipments. Ocean container movements are currently suffering from delays and inaccurate and uncertain transit times, a situation not expected to improve until the first half of 2023, according to Drewry Shipping Consultants. That in itself will depend on a more disciplined deployment of additional ship capacity by the carriers.
The logistics sector in the UK is also suffering from capacity and pricing pressures related to a serious labour shortage, soaring fuel prices and other inflationary pressures.
Felixstowe moves more than 70% of its container freight in and out of the port by truck, with the rest taken by rail.
Specific to the UK automotive sector, parts shortages and supply chain disruption are to blame for poor vehicle manufacturing results in the UK for the first half of 2022, as revealed last week by the Society of Motor Manufacturers and Traders (SMMT), which represents carmakers and their tier suppliers in the UK. Any disruption to container processing at Felixstowe is only likely to make that situation worse.