Mercedes-Benz Cars held its first online ESG (environment, social and governance) Conference for investors and analysts on April 11, during which the company discussed how it is planning to cut 50% of the carbon emissions generated in the lifecycle of its vehicles by the end of this decade.
The efforts being made are part of the Ambition 2039 initiative to eventually make all of its cars and light commercial vehicles carbon neutral, including in their production and through inbound and outbound logistics.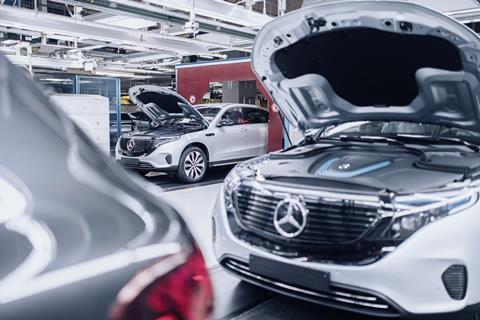 At the online conference, the company outlined the main ways it was aiming achieve the ambitious cuts, including through electrification of its vehicle fleet (it will have nine EQ variant fully electric vehicles on the road in 2022), supported by green energy charging, and an extensive use of recycled materials and renewable energy in production.
Mercedes-Benz said it plans to account for more than 70% of its energy needs through renewable energy by 2030. That includes through solar and wind power at its own sites, as well as through further power purchase agreements (PPAs).
The carmaker said that the lithium-ion battery was the biggest lever for reducing CO2, with supply chain and production accounting for more than half of the lifecycle CO2 emissions. According to Mercedes this proportion can be reduced significantly through the use of renewable energy. That includes for battery cell production and it expects to cut emissions for the production of the entire battery pack by 20% using carbon-neutral cell production. Further savings are targeted by improving the anode and cathode production process.
Supply chain and transport
The company is making efforts to move more of the batteries it makes by rail. As reported last week, it has opened a battery logistics facility adjacent to its battery and engine plant in Jawor, Poland that is connected by rail to the European production network. It is the second
DB Cargo is supporting Mercedes-Benz Cars in the provision of rail services. Parent company Deutsche Bahn already uses green electricity to for more than 60% of standard traction current and its freight customers have the options of booking journeys that are powered 100% by renewable energy, such as that generated by wind and hydro power.
The German carmaker has also been working on a pilot project using blockchain technology to improve transparency on how much CO2 is emitted in the transport of source materials, including recycled cobalt.
Greener processes
Amongst its other carbon-cutting initiatives, the carmaker is starting work on a CO2-neutral recycling factory in Kuppenheim, Germany, to recycle end-of-life electric vehicle batteries using a new hydrometallurgical technique that increases the recycling rate to 96%.
It is also looking to "massively expand" its use of low and zero-carbon steel with a focus on avoidance and reduction of emissions rather than resorting to carbon offsets. Last year it became the first carmaker to take an equity stake in Swedish start-up H2 Green Steel (H2GS). In doing so it aims to introduce 'green steel' in a number of production models by as early as 2025.
Mercedes-Benz is also increasing the amount of secondary aluminium it uses has become the first carmaker to commit to sourcing only primary aluminium certified by the Aluminium Stewardship Initiative (ASI) for its stamping plants and foundries in Europe.